Ranking the flavors of Bubbl'r: bubbles with benefits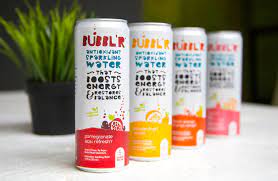 As a high school junior, energy drinks have become a necessity of mine due to a lack of sleep and a need for something flavorful to get me through the day. I also wanted to make sure whatever caffeine intake I was getting came from a better source, as many energy drinks such as Monster or Redbull have overloads of sugar (up to 40g). I came upon Bubbl'r, a healthier, five calorie alternative to an energy drink with natural flavors, colors, zero grams of added sugar, and as much caffeine as a cup of coffee (69mg). Although the flavors are unique and savorous, there are some Bubbl'rs that are definitely better than others. Here are my rankings on Bubbl'r flavors from best to worst.
pitaya berry nect'r     
Starting off my list is pitaya berry nect'r. The flavor itself is bitter and very mediocre. It isn't a standout compared to the rest of the flavors. When put up next to any other flavor, the odds of me picking pitaya berry nect'r are zero to none. The can itself has a beautiful design, therefore giving it a few points for being aesthetically pleasing.
twisted elix'r
Next, I put twisted elix'r. I know this is going to be controversial to anyone who is a fan of Bubbl'r, but I can never get myself to enjoy even a sip of this drink. I've always found this flavor to be too sweet followed by a weird aftertaste. With that being said on my part, I know that this flavor is a classic and a favorite to many others. 
pomegranate acai refresh'r
This drink is, again, not a standout flavor to me. Although it doesn't have a bitter taste nor an overly sweetened taste, I just wouldn't be compelled to purchase this drink. The flavor is definitely richer than the other drinks I've ranked, but there are certainly other flavors I'd recommend over this one.
lemon lime twist'r
Want a less flavorful version of Sprite? Well, look no further, because the lemon lime twist'r is an over-carbonated and under-flavored version of just that! In all seriousness, this drink is very similar to Sprite with less of a sweet taste, making it a healthy alternative to a sugary drink. I recommend this drink to anyone trying to end a soda addiction, as Bubbl'rs are better for you than regular soda.
blood orange mango mingl'r
Next up on my list is blood orange mango mingl'r. I am a huge mango fan, therefore making this choice perfect for any mango lover. My only critique with this drink is the mix of orange with mango, solely because I am not a huge fan of the flavor orange in general, but it's not overpowering to the point of dislike, hence why I put this flavor in the middle of the list. 
passion fruit wond'r
Next up is a flavor I tried for the first time recently and just can't get enough of. This flavor is the perfect mix of sweet and tangy, and I have no negative things to say about this drink. It isn't often in stores, however when it is, I recommend buying a pack to try, as this flavor does not disappoint.
cherry guava blend'r
Cherry guava blend'r is probably the most popular flavor, especially in the Neuqua vending machines. It's a classic, with a prominent cherry taste just right for any cherry lover. It's a safe option for anyone looking to try a Bubbl'r for the first time, but it's still not the best flavor in my opinion, hence why I ranked it third.
cranberry grapefruit sparkl'r
I just tried this drink for the first time recently as well as the passion fruit wond'r, and let me tell you, this flavor is super delightful. It's the perfect amount of sweetness, and if you are a fan of cranberry juice, then you'll love this drink. It is definitely underrated, as it isn't a well-known flavor, but I feel as though this drink deserves more recognition. 
triple berry breez'r
My favorite candy flavor of any sort will always be blue raspberry. Something about the taste is so addicting and a default flavor for many people. That's why I placed the triple berry breez'r second on this list. It is sweet and often reminds me of blue raspberry cotton candy. In order to like this drink, you must have the acquired taste for something like this drink, as it definitely isn't for everyone. If I go to the store to buy Bubbl'rs, I usually walk away with a case of triple berry breez'r.
tropical dream'r
Finally coming in at number one is tropical dream'r. I've only had this flavor twice, as it is nearly impossible to find in stores anywhere, but let me tell you, this is the best option out of all the flavors. It gives off a summer-like feel, tasting exactly like a carbonated piña colada. It always sells out immediately in stores, as it is super popular due to its delicious taste. If you ever see it at a store, I recommend buying it out of any of the other flavors, as it is far superior to every other Bubbl'r drink.
Hopefully, this list has helped you decide what flavor you want to try, whether it be your first ever time drinking a Bubbl'r, or if you're just looking for suggestions on what to try next. Coming from someone who practically lives off of energy drinks, it is safe to say that Bubbl'rs have been the best option for me.