Neuqua Valley celebrates 25 years with its inaugural class of Distinguished Alumni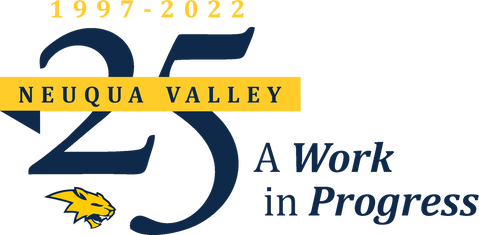 Neuqua Valley celebrates its 25th anniversary this year, commemorating 25 years of state championship sports teams, 25 years of Grammy winning music programs and 25 years of academic excellence. In celebration of the anniversary, there will be a program in the auditorium on Sunday, April 24, 2022 at 2p.m. Alongside a general presentation and celebration of a successful 25 years, the school has invited their inaugural class of Neuqua Distinguished Alumni.
Distinguished Alumni is an initiative coming to Neuqua modeled after the same celebration that Waubonsie Valley has with its alumni. Beginning in December 2021, Neuqua Valley began accepting nominations for Alums from the Class of 2011 and prior. 25 decorated alumni were nominated, and five final inductees have been chosen to represent Neuqua as Distinguished Alumni. These inductees have left a mark on their own respective communities, from IPSD 204 to Capitol Hill. Each inductee has worked hard to leave a positive impact and legacy through the halls of Neuqua Valley and beyond.
Reem (Rahman) Kareem: Class of 2004
Kareem works as a Product and Knowledge Manager at Ashoka Changemakers, a company that supports social movements and helps individuals with ideas for social change through classes, guides and more. Prior to joining Ashoka, Kareem directed communications and PR for a civil rights organization in Chicago. She is also formerly a Managing Director for the Rethinking Islamic Reform forum in the UK. After graduating Neuqua Valley, Kareem attended the University of Illinois at Urbana-Champaign where she graduated with honors and a Bachelor's degree in Cognitive Neuroscience. She also received a Master's in Management Research from the University of Oxford.
Jordan Schubert: Class of 2011
Schubert is an impactful member of the District 204 Special Olympics community. He began participating in Special Olympics in 5th grade and continues to this day. In 2010, Schubert represented Neuqua at the National Youth Summit during the USA Games and worked to make Neuqua a Unified Champion School by offering Unified sports and leadership opportunities. Schubert continued his academic career and Special Olympics involvement at West Chester University and currently works with Special Olympics athletes in leadership roles and positions related to health and coaching, leadership and public speaking. This upcoming summer, Schubert's basketball team will be competing in the USA Games, a premier Special Olympics event with over 5,000 participating athletes.
Jessica (Breyne) Walsh: Class of 2000
Walsh is a decorated District 204 teacher and graduate of Neuqua's first graduating class. She began her career as a Language Arts teacher at Granger Middle School. While continuing to teach students, Walsh also mentors fellow colleagues, working to better the quality of education throughout the district. She has been a proud advocate for literacy and equity, and the doors they open for students. She currently teaches at Granger, where she runs a lab classroom open to fellow teachers to come observe.
Josh Johnson: Class of 2007
Johnson is a professional musician and composer, who plays the saxophone and keyboard. He has worked with Leon Bridges, Marquis Hill, Jeff Parker and performed with Harry Styles at his 2021 Grammy performance. Since 2018 he has been the musical director for Leon Bridges, an endeavor that has taken him across the world, selling out Radio City, and the Greek Theater, among other accomplishments. Johnson began his musical career early through piano lessons as a child, continuing through the band and music programs playing the saxophone at Crone Middle School and Neuqua Valley. Johnson continued his career at the Indiana University Jacobs School of Music, and was selected to study at the UCLA Herb Alpert School of Music for the Thelonious Monk Institute, a prestigious musical institution. Johnson currently resides in Los Angeles and continues to work in the music industry, You can read more about him here from our previous interview: https://nvhsecho.com/4218/profiles/connecting-the-world-of-music-neuqua-alumni-josh-johnson/
Lauren Underwood: Class of 2004
Underwood serves as Illinois' 14th Congressional District Representative. She is the first person of color and first woman to serve as her district's representative, and she is the youngest African American woman to serve in the House of Representatives. Underwood also became a registered nurse after receiving her degree from the University of Michigan. She then attended Johns Hopkins University where she received two masters degrees in Public Health and Science of Nursing. Underwood remains involved in the Neuqua Valley community and is even holding multiple events at the school this upcoming week. You can read more about Underwood here, from her previous interview with The Echo: https://nvhsecho.com/3086/profiles/from-wildcat-to-democrat/
These five Neuqua graduates have left positive impacts on communities across the world, and Neuqua students will hopefully continue to do so for generations to come.
Leave a Comment
Your donation will support the student journalists of Neuqua Valley High School. Your contribution will allow us to print our next news magazine! It will also help us purchase equipment and cover our annual website hosting costs.
About the Contributor
Ben LeGrand, Editor-in-Chief
Ben is a senior and third year member of The Echo. He is involved in Cross Country and Track. He enjoys correcting people on their poor bagel choices,...