Connecting the world of music with Neuqua Alumni Josh Johnson
On Sunday, Mar. 14, 2021, at the 63rd annual Grammys awards, a familiar face to Neuqua Valley Class of 2007 played beside pop icon Harry Styles while he performed his smash hit "Watermelon Sugar." Josh Johnson, a highly accomplished and multi-instrumentalist musician, who's a Neuqua graduate, was one of the performers in Style's jazz band, playing his saxophone.
Johnson was introduced to the musical world at a young age; growing up in a musically oriented family empowered his interests to become immersed in it. A familiar story for most musicians, Johnson started on the piano, taking the traditional route and building his musical foundation with lessons. Through his middle school years at Clifford Crone Middle School, he continued his music education through band, starting on the saxophone. With his interests and skills in music developing more, it was his time at Neuqua that allowed his passion for music to shine through and for his musical career to pick up steam.
Johnson reminisced on the times he spent playing with his friends, making and experimenting with music at Neuqua. A fond memory for Johnson, and a similar story to most high schoolers, are the trips and bus rides to conventions and competitions, where he enjoyed meeting and making connections with other musicians. He gives thanks to the opportunities that opened doors for him as a musician at Neuqua, noticing how other schools weren't fortunate enough to receive the same resources. Taking advantage of all these opportunities, he was involved in all sorts of music, being in jazz ensembles and marching band, going to conventions.
"[The] school part is important, but the application is equally important."
High school is a great time to take advantage of opportunities offered to you and often a time to discover new interests and passions. Johnson used his time in high school to explore his musical interests, composing different kinds of music on his keyboard or on his parents' computer. All of this allowed him to truly realize his passion for music and start taking it seriously, eventually learning that this is how he would express himself in his life and career.
After graduating, Johnson continued to pursue music more heavily at the collegiate level, advancing his skills at Indiana University Jacobs School of Music. From there, Johnson moved to Los Angeles for graduate school after being selected to study at the University of California Los Angeles (UCLA) Herb Alpert School of Music for the Thelonious Monk Institute, an extremely selective program. Johnson says his experience there was invaluable due to the many lessons he learned—pertaining to both music and life—all havhading lasting impressions on him and his understanding of music.
This is where his musical career really took off: being active within the musical world. Johnson was constantly networking and collaborating with other musicians. He described how "music is community based," noting all the amazing collaborations he has made with such esteemed musicians as Jeff Parker, Kiefer, Makaya McCraven, Miguel Atwood-Ferguson, Leon Bridges and Marquis Hill. Through networking, he expresses how "music can literally take you places"and open doors to so many possibilities (for example, getting recommended to play at the Grammys.).
"
Let your curiosity guide you to a deeper understanding"
— Josh Johnson
"Let your curiosity guide you to a deeper understanding," whether it's of yourself or another one of your interests.
"Always stay curious" is one of the philosophies that Josh Johnson lives by that continues to deepen his enjoyment of life and his relationship with music. It's a very important philosophy to Johnson, as it symbolizes the value of education and the opportunities that can come with a better understanding. Being open to learning and gaining a deeper understanding can lead to valuable experiences and possibilities that were hidden before. There is so much in life that is to be explored, so continue to ask the hard questions and continue to want to learn, and see where it can take you.
"All of us are continuing students," and we have the power to explore our interests and make the most of a world that, as Johnson described, "isn't that big." Fostering some of your passions at a young age, similar to Johnson, can allow you to connect more to yourself and find out what's right for you. Whether or not you're interested in music, Neuqua has many opportunities for students to find out who they are, what they like or dislike and set them up for success in the future.
About the Writer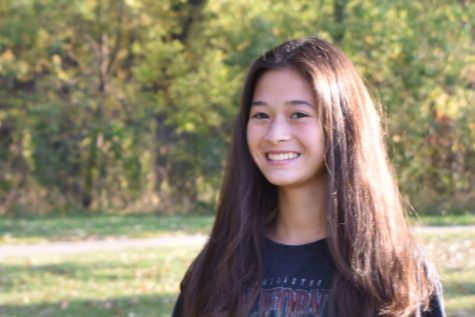 Abby Apeland, Staff Writer
Abby is a sophmore and first year staff member of The Echo. She is involved with Neuqua's varsity cross country, basketball, and track and field teams....