La Sesión Conjunta del Congreso Causa Protestas al Edificio del Capitolio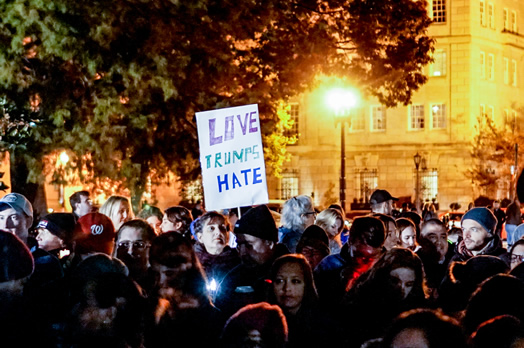 Artículo Original: Congressional joint session causes protests at the Capitol building por Aarti Gupta
Aficiones de Trump rodearon y entraron el edificio del Capitolio el Miércoles, el seis de enero de 2021 para protestar una sesión conjunta del congreso que se realizó para certificar los votos electorales. El Colegio Electoral oficialmente eligió a Joe Biden en diciembre, y la reunión que se realizó hoy fue el paso final para confirmar la victoria de Biden.
La Constitución de Los Estados Unidos requiere que el Congreso se reúna junto a contar los votos electorales. Certificados sellados están mandando para cada estado que contiene un registro de los votos. En el caso de un empate, la Casa de Representantes decide la presidencia. Esta reunión sirve como la última oportunidad para oficiales a hacer objeciones al resultado de las elecciones antes de que un candidato oficial esté inaugurando.
2:49 de la mañana
El Presidente Donald Trump dio una declaración, certificando que "there will be an orderly transition on January 20th."
"Even though I totally disagree with the outcome of the election, and the facts bear me out, nevertheless there will be an orderly transition on January 20th. I have always said we would continue our fight to ensure that only legal votes were counted. While this represents the end of the greatest first term in presidential history, it's only the beginning of our fight to Make America Great Again."
Esa declaración fue enviada (en Twitter) de Dan Scavino, el director de las redes sociales, después de que la cuenta de Trump fue bloqueada por Twitter.
2:41 de la mañana
Oficialmente, el Congreso ha certificado los votos electorales, y Joe Biden fue declarado por el Vicepresidente Mike Pense a el ganador. Biden será Presidente 46 de Los Estados Unidos.
10:15 de la tarde
Cuatro personas han muerto a consecuencia de las protestas violentas en el edificio del Capitolio hoy.
9:00 de la tarde
Más de treinta detenciones han sido hacer contra las personas que están rompiendo el toque de queda en D.C. 
8:15 de la tarde
Todos de New York, New Jersey, Virginia y Maryland han desplegado miembros de El Guardia Nacional a Washington D.C. Esperan a ayudar en una transición pacífica de poder. 
7:15 de la tarde
El debate entre el Senado sobre los resultados de las elecciones ha resumido. El líder de la mayoría del Senado, Mitch McConnel, espera que la sesión pueda ser abierta para confirmar los votos. 
7:00 de la tarde
El RNC condenó la violencia de hoy, diciendo que las acciones de hoy "do not represent acts of patriotism, but an attack on our country and its founding principles." El director de sus comunicaciones, Michael Ahrens, definió las protestas sobre una acción de terorismo doméstico.
Jefe del estado mayor y la secretaria de los medios para Melania Trump, Stephanie Grisham, ha renunciado después de las protestas.
6:00 de la tarde
El Orador de La Casa, Nancy Pelosi, habló que la sesión conjunta del congreso se resumirá cuando el Capitolio esté seguro para usarlo.
5:25 de la tarde
Trump manda un mensaje de Twitter a sus aficiones, "These are the things and events that happen when a sacred landslide election victory is so unceremoniously & viciously stripped away from great patriots who have been badly & unfairly treated for so long" anadiendo: "Go home with love & in peace. Remember this day forever!"
5:10 de la tarde
La Prensa Asociada ha reportado que la mujer que le dispararon más temprano hoy dentro del Capitolio ha muerto.
"That's according to two officials familiar with the matter who spoke to The Associated Press on Wednesday on condition of anonymity because they weren't authorized to speak publicly."
5:00 de la tarde
Toque de queda en Washington, D.C, oficialmente, se ha instalado. Esta orden se extiende hasta 6:00 de la mañana, EST.
4:50 de la tarde
Después de una ocupación de cuatro horas, oficiales han dicho que "the Capitol is secure."
4:40 de la tarde
El gas lacrimógeno y granadas de percusión se están utilizando para quitar manifestantes, así que el toque de queda empieza en veinte minutos en Washington, D.C. La multitud ha empezado a dispersarse.
4:30 de la tarde
El Jefe Policía Robert Contee dice que más de trece personas se han detenido al resultado de las protestas, y más de cinco armas se han recuperado.
4:00 de la tarde
El Jefe Policía de Washington, D.C., Robert Contee, dice que la escena se ha declarado un disturbio y que "chemical irritants" usaba contra la policía a entrar el Capitolio.
El Alcalde Muriel Bower, también, dijo que "there will be law and order and this behavior will not be tolerated" en respuesta a los eventos de hoy.
Demostraciones han viajado cerca del país, con informes que manifestantes están cargando armas y que las evacuaciones han empezado.
3:40 de la tarde
Un artefacto explosivo fue encontrado cerca del Capitolio de los Estados Unidos, pero oficiales han dicho que el artefacto no es una amenaza.
3:17 de la tarde
Presidente Trump compartió un mensaje de video con sus aficiones diciendo: "I know your pain. I know your hurt. But you have to go home now." Añadió:  "We can't play into the hands of these people. We have to have peace. So go home. We love you. You're very special."
3:15 de la tarde
Presidente electo Joe Bieden habló a la Nación, llamando la situación un "assault on the rule of law." Añadió: "The scenes of chaos at the Capitol do not represent who we are. What we are seeing is a small number of extremists dedicated to lawlessness. This is not dissent, it's disorder. It borders on sedition, and it must end. Now."
3:00 de la tarde
El Pentágono ha activado 1,100 miembros de La Guardia Nacional para ayudar a rellenando las fuerzas de orden fuera de Capitolio. 
2:55 de la tarde
Senador Chuck Schumer y Oradora de La Casa Nancy Pelosi emitió un declaración conjunta.  "We are calling on President Trump to demand that all protesters leave the U.S. Capitol and Capitol grounds immediately."
2:40 de la tarde
El Departamento de Seguridad Nacional ha mandado agentes del Servicio Secreto de los Estados Unidos y miembros del Servicio Federal de Protección a apoyar la policía del Capitolio de los Estados Unidos. 
2:35 de la tarde
El Vicepresidente Mike Pence manda un mensaje de Twitter a manifestantes, llamando a ellos a salir del Capitolio inmediatamente.
2:20 de la tarde
El Departamento de Defensa ha pedido para apoyo de La Guardia Nacional, y está siendo revisado por el Pentágono.
Tayler Hansen, quien está actualmente en el Capitolio, comparte un video de Twitter de una mujer a lado de él siendo disparado al edificio de Capitolio. La víctima está siendo llevada al hospital.
2:00 de la tarde
A las 2:13 de la tarde, Trump, también, fue al Twitter a pedir "for everyone at the U.S. Capitol to remain peaceful. No violence!"
Manifestantes han sido encontradas dentro del cuarto del Senado, dentro de las pasillos del Capitolio, y en galerías de visitorias.
1:50 de la tarde
Representantes Congresionales dentro de La Casa fueron instruidos a usar máscaras antigás así que gas lacrimógeno se filtró por manifestantes. El edificio fue puesto en el cierre.
A las 1:55 de la tarde, una fuente dijo Aaron C. Davis del Washington Post que "The Defense Department has just denied a request by DC officials to deploy the National Guard to the US Capitol."
1:45 de la tarde
Mientras manifestantes entran el Capitolio de Los Estados Unidos, Senadores y Representantes se están acompañando por policía oficial. Otras han sido ordenadas para quedarse donde está en sus oficinas.
Fotos que fueron publicadas muestran manifestantes entrando a los pasillos del Capitolio con banderas de Trump, América y la Confederación.
1:40 de la tarde
Un toque de queda se ha ordenado por el Alcalde Muriel Bowser de Washington, D.C a empezar a las seis de la tarde EST (miércoles) y a terminar a las seis de la mañana el jueves.
1:30 de la tarde
Oficialmente, el Capitolio de Los Estados Unidos fue violada por manifestantes. Las puertas del Capitolio fueron cerradas, y el debate del voto electoral, oficialmente, fue suspendido.
A las 1:38 de la tarde, Trump mandó un mensaje en Twitter y pidió que manifestantes "stay peaceful." 
1:24 de la tarde
Presidente Donald Trump tomó a Twitter a acusar Vicepresidente Mike Pence de no teniendo "the courage to do what should have been done to protect our Country and our Constitution, giving States a chance to certify a correct set of facts, not the fraudulent or inaccurate ones which they were asked to previously certify."
En el pasado, Trump ha mandado un mensaje de Twitter en apoyo de Pence, diciendo que  "this is a time for extreme courage" porque del hecho de que Pence está a cargo de abriendo los sobres para votos y leyendo los resueltos en voz alta. Pero, Pence desafió estos mensajes por describiendo que no tiene la "unilateral authority" a rechazar votos del Colegio Electoral.
1:20 de la tarde
Los resueltos del debate del Senado para el Colegio Electoral se han suspendido. Manifestantes rompieron por las barricadas e intentaron empujar a policías allí a terminarlos.
12:55 de la tarde
La actividad de la policía se ha reportado fuera del Capitolio, y miembros del personal del Congreso se están evacuando de edificios.