Congressional joint session causes protests at the Capitol building
The latest updates from the Capitol protests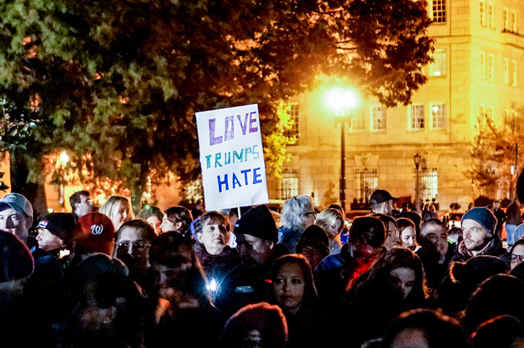 Trump supporters surrounded and entered the Capitol building on Wednesday, Jan. 6, 2021 in protest of a congressional joint session being held to certify electoral votes. The Electoral College officially elected Joe Biden in December, and the meeting being held today was the final step to confirm Biden's win. 
The United States Constitution requires that Congress meets together to count the electoral votes. Sealed certificates are sent from each state that contain a record of the votes. In the case of a tie, the House of Representatives decides the presidency. This meeting serves as the last chance for officials to make objections to the election results, prior to an official candidate being inaugurated. 
2:49 a.m.
President Donald Trump released a statement, certifying that "there will be an orderly transition on January 20th."
"Even though I totally disagree with the outcome of the election, and the facts bear me out, nevertheless there will be an orderly transition on January 20th. I have always said we would continue our fight to ensure that only legal votes were counted. While this represents the end of the greatest first term in presidential history, it's only the beginning of our fight to Make America Great Again."
The statement was Tweeted by Dan Scavino, Trump's social media director, after Trump's account was locked by Twitter.
2:41 a.m.
Congress has officially certified the electoral votes, and Joe Biden was declared by Vice President Mike Pence as the victor. Biden is set to be the 46th President of the United States.
10:15 p.m.
Four people have died as a result of the violent protests at the Capitol building today.
9:00 p.m.
More than 30 arrests have been made against those violating curfew in D.C.
8:15 p.m.
New York, New Jersey, Virginia and Maryland have all deployed members of the National Guard to Washington D.C. They hope to aid in a peaceful transition of power.
7:15 p.m.
The debate between Senate regarding the election results has resumed. Senate Majority leader Mitch McConnell hopes to keep the session open to confirm the votes.
7:00 p.m.
The RNC condemned today's violence, saying that today's actions "do not represent acts of patriotism, but an attack on our country and its founding principles." Their communications director, Michael Ahrens, deemed the protests as an act of domestic terrorism.
Chief of staff and press secretary for Melania Trump Stephanie Grishman has resigned following the protests.
6:00 p.m.
Speaker of the House Nancy Pelosi said that the congressional joint session will resume once the Capitol is safe for use.
5:25 p.m.
Trump tweets out to his supporters, "These are the things and events that happen when a sacred landslide election victory is so unceremoniously & viciously stripped away from great patriots who have been badly & unfairly treated for so long" adding: "Go home with love & in peace. Remember this day forever!"
5:10 p.m.
The Associated Press has reported that the woman shot earlier today inside the Capitol has died.
"That's according to two officials familiar with the matter who spoke to The Associated Press on Wednesday on condition of anonymity because they weren't authorized to speak publicly."
5:00 p.m.
Curfew in Washington D.C. has officially been instated. This order extends through 6:00 a.m. EST.
4:50 p.m.
Officials have deemed that "the Capitol is secure" after a four-hour occupation.
4:40 p.m.
Tear gas and percussion grenades are being used to clear protesters, as curfew begins in 20 minutes in Washington D.C. The crowd has started to disperse.
4:30 p.m.
Police Chief Robert Contee says that at least 13 people have been arrested as a result of the protests, and at least five weapons have been recovered.
4:00 p.m.
Washington D.C. Police Chief Robert Contee says that scene has been declared a riot and that "chemical irritants" were used against the police to enter the Capitol.
Mayor Muriel Bowser also said that "there will be law and order and this behavior will not be tolerated" in response to today's events.
Demonstrations have spread across the country, with reports that demonstrators are carrying guns and that evacuations have begun.
3:40 p.m.
An explosive device was found near the U.S. Capitol, but officials have stated that it is no longer a threat.
3:17 p.m.
President Trump shared a video message with his supporters saying: "I know your pain. I know your hurt. But you have to go home now." He added: "We can't play into the hands of these people. We have to have peace. So go home. We love you. You're very special."
3:15 p.m.
President-elect Joe Biden addressed the Nation, calling the situation an "assault on the rule of law." He added: "The scenes of chaos at the Capitol do not represent who we are. What we are seeing is a small number of extremists dedicated to lawlessness. This is not dissent, it's disorder. It borders on sedition, and it must end. Now."
3:00 p.m.
The Pentagon has activated 1,100 National Guard members to assist by refilling law enforcement outside the Capitol.
2:55 p.m.
Senator Chuck Schumer and Speaker of the House Nancy Pelosi issued a joint statement. "We are calling on President Trump to demand that all protesters leave the U.S. Capitol and Capitol grounds immediately."
2:40 p.m.
The Department of Homeland Security has sent U.S. Secret Service agents and members of the Federal Protective Service to assist U.S. Capitol Police.
2:35 p.m.
Vice President Mike Pence tweeted at protesters, calling on them to immediately leave the Capitol.
2:20 p.m.
The Defense Department has requested for National Guard support, and it is being reviewed by the Pentagon.
Tayler Hansen, who is currently at the Capitol, shared a video on Twitter of a women beside him being shot at the Capitol building. The victim is being taken to the hospital.
2:00 p.m.
At 2:13 p.m., Trump once again took to Twitter to ask "for everyone at the U.S. Capitol to remain peaceful. No violence!"
Protesters have been found inside the Senate chamber, throughout the halls of the Capitol and in visitor galleries.
1:50 p.m.
Congressional representatives inside of the House were instructed to wear gas masks as tear gas was leaked by protesters. The building was placed on lockdown.
At 1:55 p.m., a source told Aaron C. Davis of Washington Post that "The Defense Department has just denied a request by DC officials to deploy the National Guard to the US Capitol."
1:45 p.m.
As protesters enter the U.S. Capitol, senators and representatives are being escorted and evacuated by official police. Others have been order to shelter in place at their offices.
Photos released show protesters entering the halls of the Capitol with Trump, American and confederate flags.
1:40 p.m.
A curfew has been ordered by Mayor Muriel Bowser of Washington, D.C. beginning at 6 p.m. EST Wednesday and ending at 6 a.m. on Thursday.
1:30 p.m.
The U.S. Capitol was officially breached by protesters. Doors of the Capitol were locked, and the electoral vote debate was officially suspended.
At 1:38 p.m., Trump tweeted and requested that protesters "stay peaceful."
1:24 p.m.
President Donald Trump took to Twitter to accuse Vice President Mike Pence of not having "the courage to do what should have been done to protect our Country and our Constitution, giving States a chance to certify a correct set of facts, not the fraudulent or inaccurate ones which they were asked to previously certify."
Trump had previously tweeted in support of Pence, saying that "this is a time for extreme courage" because Pence is in charge of opening the envelopes for votes and reading the results out loud. However, Pence defied these messages by describing that he lacks the "unilateral authority" to reject votes from the Electoral College.
1:20 p.m.
The Senate's debate over the Electoral College results has been recessed. Protesters broke past the barricades and attempted to push past officers instated to keep them back.
12:55 p.m.
Police activity has been reported outside the Capitol, and congressional staff members are being evacuated from buildings.
Leave a Comment
Your donation will support the student journalists of Neuqua Valley High School. Your contribution will allow us to print our next news magazine! It will also help us purchase equipment and cover our annual website hosting costs.
About the Contributor
Aarti Gupta, Editor-in-Chief
Aarti is a senior and a second year member of The Echo. While she's not editing, she can be found watching yet another sitcom, updating her Goodreads or...