National Suicide Prevention Month: Students raising awareness
National Suicide Prevention Month is an annual campaign in the United States that informs people about the warning signs of suicide. Every September, the goal of the campaign is to promote suicide prevention awareness with the help of "mental health advocates, prevention organizations, survivors and allies," as outlined by the National Suicide Prevention Hotline on their website. Many organizations have made efforts to raise awareness and engage community members,including some in the Neuqua community. President of Neuqua Valley's "You Matter" club, Arya Nalluri and Senior advisor, Sofia Khan, both share their part in the community. 
President of the club, Nalluri, explains that one of the first major projects of the year for "You Matter" will be a town hall meeting co-hosted with OurSafety, an activism group separate from Neuqua Valley which is set to take place early October. The town hall will host a variety of guests including social workers, teachers and police officers – all people that can speak about mental health in a school environment. Later that month is mental health week (Oct 6th-12th), which is a week to recognize the efforts of the National Alliance on Mental Illness (NAMI). During this week, You Matter will partner with the PE department to raise awareness about the importance of taking care of yourself, not just physically, but mentally. Throughout the year, the club plans on fundraising for NAMI , creating forums for mental illness discussion and using Neuqua Valley to create projects directed towards breaking down the stigma surrounding mental illness. The club in the next few months is working on "creating material about suicide prevention to spread awareness person-to-person." You Matter meets every other Tuesday, and anyone can keep in contact using the remind (text @bgee3h to 81010) if interested. 
Neuqua student Sofia Khan has also made attempts to end the stigma for mental illness.  Khan has mainly worked to spread awareness, either through social media or conversation. She recently finished her partnership with the American Foundation for Suicide Prevention (AFSP), where her goal of raising $500 was reached. On their website, there is a Create Your Own Fundraising Event campaign where you can use the money you receive from donations which is all accumulated in the end.Along with her fundraiser, she participated in the Out of the Darkness Walk in Chicago which is also organized by the organization. The Out of the Darkness Walk was implemented to raise awareness and funds that allow ASFP to "invest in new research, create educational programs, advocate for public policy, and support survivors of suicide loss," according to their website. As a senior advisor, Khan's goal is to give her freshmen resources that they can access if someone they know, or they themselves, are in a crisis situation. Khan has given a presentation on suicide prevention and the warning signs for someone who might be suicidal to her freshman. Khan believes that "it's important to know and be aware of these serious topics from a young age just because unfortunately it's becoming increasingly applicable." 
Nalluri and Khan have different reasons for being so vocal in their efforts to advocate for those suffering with mental health. Both Nalluri and Khan's main motivation is personal experience. Arya says, "I personally went through depression and anxiety my Sophomore year, and it is still something I struggle with today. Neuqua is a very competitive school, and mental health is an often ignored topic of discussion, so I wanted to start something that would address the stigma surrounding mental illness on a local level. To do just that, I started You Matter with the help of some friends. It's meant to be lead by students, so teens who are involved in the community can help their peers with an often hidden battle." Khan explains her own story as well, saying that "as a survivor of a suicide attempt myself and someone who struggles with mental illness, I wanted to give back to the community and hopefully work towards normalizing mental health issues."
A common goal between Khan and Nalluri is trying to rid the stigma surrounding mental illness. Nalluri explains how it's "hard to reach out for help when the issue is something not discussed, when you feel abnormal for suffering with it." Similarly, Khan believes it's important for "people feel comfortable having conversations about mental health struggles." Mental illness is common and shouldn't be ignored. Students like Nalluri and Khan are working towards a similar goal that is making their peers more aware with the realities for mental illness. 
About the Writer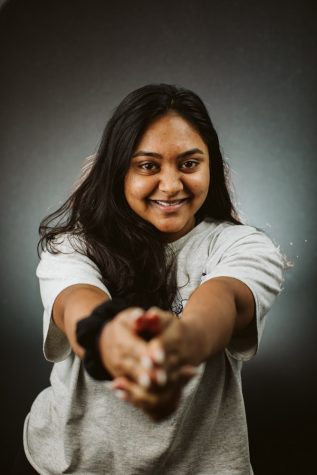 Anika Haridas, Editor
This is Anika Haridas and she is a senior at Neuqua Valley High school. This is Anika's third year in the Echo, joining in her sophomore year. She actively...