JB Pritzker pulls the trigger on assault rifle ban
The sale, purchase, and delivery of assault weapons was officially banned in the state of Illinois after Gov. JB Pritzker signed off on the "Protect Illinois Communities Act" legislation on Jan. 10, 2023. The Illinois General Assembly has been fighting to enforce stricter gun safety legislation for what has been years now. While this victory for the assembly is seen as a proactive attempt to end mass shootings, many gun owners are infuriated.
Illinois, specifically the city of Chicago, has been dealing with a growing number of deadly mass shootings, leaving many in the community feeling unsafe, even in schools, which are meant to be a safe haven for kids to learn. A child should be concerned about their next math test upon arriving at school, not whether or not their school will be attacked by an active shooter.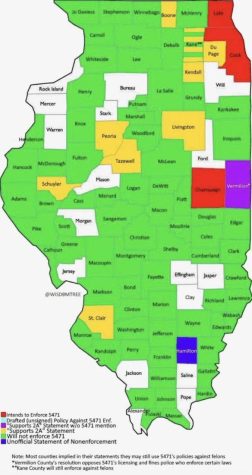 Gov. Pritzker has expressed his frustration with the normalization of gun violence, claiming that this ban on assault weapons, although controversial, is better than simply watching people in our community die. He referenced the mass shooting on Jul. 4 of last year in Highland Park, to make sure people do not forget the tragedy and its effects. A little boy became an orphan, seven people lost their lives, thirty-six were injured, and an entire community was left heartbroken and traumatized. And, of course, the shooter purchased the semi automatic weapon legally.
But what about those who already owned assault weapons before the bill was signed? These people are permitted to keep the weapons, but only if they register them with the Illinois State Police by Jan. 1, 2024. These new limitations are not sitting well with law-abiding gun owners, with lawsuits already being filed.
To some people, a ban on assault weapons will not stop criminals, but instead make criminals out of law-abiding citizens. Something that should be guaranteed by the 2nd Amendment is now being stripped of citizens; a large price to pay for attempts to limit gun violence in Illinois.
It is one thing for citizens to protest this ban, but when sheriffs refuse to enforce the ban, that is a different story. In about 80 Illinois counties, sheriffs and state's attorneys say that they will not enforce the ban on assault weapons or the required registry for those who already own them. They claim that it violates their inalienable rights protected by the 2nd Amendment in the Constitution. Sheriffs who are against the ban say that they will simply not be checking to make sure people register their weapons, and they will not be arresting individuals who break this law.
However, Governor Pritzker is not tolerating this, announcing that law enforcement either need to enforce the law or quit their job. He added, ""They took an oath of office to uphold the law. As law enforcement, that's their job and I expect them to do that job."
As of Jan. 24, DuPage County Sheriff James Mendrick announced that he will not be enforcing the ban. The DuPage County board meeting was swamped with citizens arguing for and against the enforcement of the ban.
The repercussions of this bill will definitely be felt throughout the state and any developments will continue to be covered.
Leave a Comment
Your donation will support the student journalists of Neuqua Valley High School. Your contribution will allow us to print our next news magazine! It will also help us purchase equipment and cover our annual website hosting costs.
About the Contributor
Emma Vorasorn, Staff Writer
Emma Vorasorn is a junior this year at Neuqua. She is currently playing for the 19u Girls Hawks hockey team and is excited to start her new season. Emma...