Fits of the week: Finding the fashionistas of Neuqua
      Sept. 15 marks the official start of the fall season, a.k.a. flannel and sweater season. That extra layer keeps you at the perfect temperature in these progressively chilling temperatures, and come on, they open up a whole new door in the fashion world! To celebrate the beginning of this wonderous season, I found some students to give you some inspiration for some killer autumn outfits. In addition, I will be providing alternative, more ethical sources for these clothes in the Recreate the Look portion of this article rather than promoting fast fashion brands.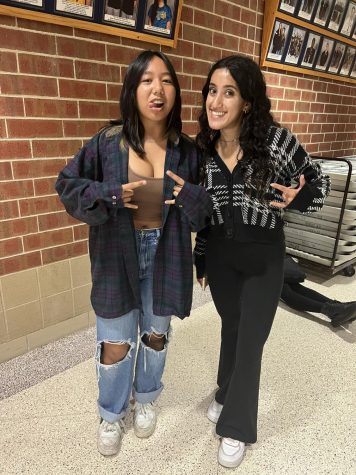 Speaking of flannels and sweaters, Seniors Pauline and Sandra are kickin' off the season with some layering. On the left, Pauline is rocking a beige cropped tank top and some baggy ripped jeans. To pull together this perfect fall fit, she has a purple and green oversized flannel. To the right, we have Sandra in some flared leggings and an adorable plaid cardigan. You can never go wrong with plaid, a staple of the autumn season. Both girls finish their look with white Nike Air Forces, which go well with pretty much every outfit.
Recreate the Look
Pauline's Fit:
~ Baggy jeans, tank top –> Goodwill
~ Flannel –> The Juncture Vintage (in Joliet)
Sandra's fit:
~ Crossover Flare Leggings –> Aerie
~Plaid Cardigan –> Zara *Ethical Alternative: Depop, search "plaid cardigan"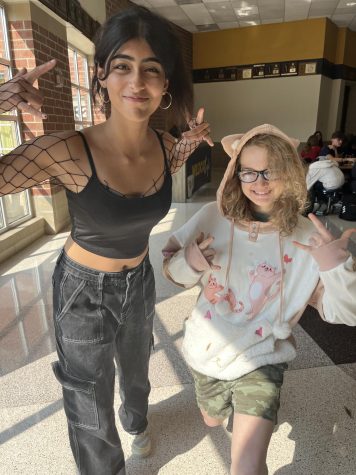 Gauri and Emma, Seniors, have contrasting fits. Gauri, on the left, styled a black cropped tank top with fishnet sleeves and some baggy, black cargo jeans. On the right, Emma is sporting a comfy cat hoodie with some cargo shorts.
Recreate the Look
Gauri's Fit
~ Baggy Jeans –> Amazon
~ Tank Top –> Fox Valley Mall
~ Fishnet Sleeves –> Amazon (cut out crotch and wore as top)
Emma's Fit
~ Cat Hoodie –> miccostumes.com
~ Camo Shorts –> Old Navy
Our environment comes first, yes, even before cheap clothes, and my goal is to encourage students to shop sustainably while still expressing themselves through fashion. Style and sustainability must coexist and is attainable through awareness.