Fits of the week: Finding the fashionistas of Neuqua
      We can all agree that school is a place of learning, but what we do not want to admit is that it is also a runway. Even waking up fifteen minutes before the bus comes or backing out of the driveway five minutes before the first bell, some Neuqua students still manage to show up to school looking put together. I'm here to give all our fashionistas at Neuqua the proper recognition for the outfits they've thrown together this year and hopefully encourage you to spice up your own wardrobe. Who knows, maybe these stylistic rookies can give you insight into the fashion world.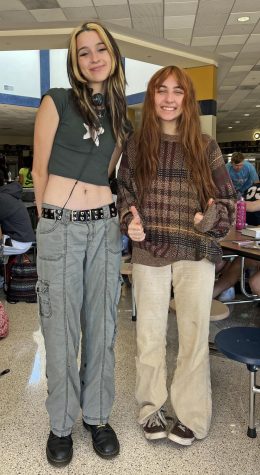 Here we have a fashion duo, sporting a grungy look. Madeleine Wahl, on the left, rocks a forest green, cropped baby-tee with a star patch sewn in the middle and low-rise, gray cargo pants, held up by a grommet belt. She tops off the look with Doc Martens and chunky headphones, a practical accessory. On the right, Allie Gliganic has khaki boot-cut pants and an over-sized sweater with a plaid pattern. This outfit has a perfectly coordinated brown color palette, including the Converse. Both students utilize neutrals and earth tones.
Recreate the Look
Wahl's fit:
~ Baby tee –> handmade
~ Low-rise pants –> Goodwill.
Gliganic's fit:
~ Converse All Stars –> Ebay
~ Khaki Bell Bottoms –> The Vintage Underground (Downtown Chicago)
~ Sweater –>Ebay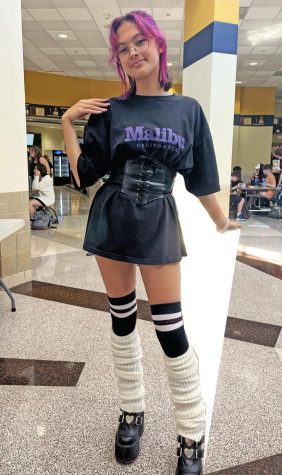 On the right, Lian Curtis put together an adorable outfit consisting of platform boots and leg warmers, layered over thigh-high socks, a look that I find rather unique and will probably be trying out myself! For the top, she has an oversized graphic tee with a corset over it. I personally love this style, for it adds a little something to the otherwise casual shirt. Curtis finishes the look with her delicate wire-rimmed glasses.
Recreate the Look
Curtis's fit:
~ Platform Boots –> Demonia
~ Oversized T-shirt –> Pacsun
~ Leg warmers + thigh-high socks –> YesStyle
~ Corset –> Amazon
Final Thoughts
The power of a cute pair of shoes is greatly underestimated within the general population. Although they are not frequently in your line of sight, they say a lot about you, and they have the potential to add a lot of personality to your outfits. On a larger scale, I cannot stress the utility and sustainability of buying second hand. Not only does it limit your contribution to the fast fashion industry, but it also guarantees a unique wardrobe, fit to roam the Neuqua runway.