Rating 2022 Grammy's Outfits
The 2022 Grammy Awards was held on April 3, 2022 with various artists, actresses and other public figures attending. Despite the topics of conversation circulating surprises and snubs, the outfits worn by celebrities that attended the event gained a great deal of spotlight. Many of these celebrities gained the spotlight, but for some, not for the right reasons. Located down below are my favorites and least favorites outfits worn, critiques, concerns and also, a numerical rating for each look.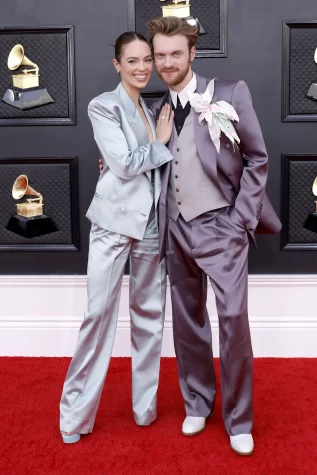 First starting off are Claudia Sulewski and Finneas. This has to be one of the outfits/duos that I liked the most. Maybe it is because I love suits myself and think they look good on anyone, but the color scheme and contrast of colors is quite beautiful. The only thing that I don't like is the giant flower in Finneas' pocket. It's distracting, and to be honest, it would look a lot if it was more minimalistic. Overall, I would rate these an 8.5/10.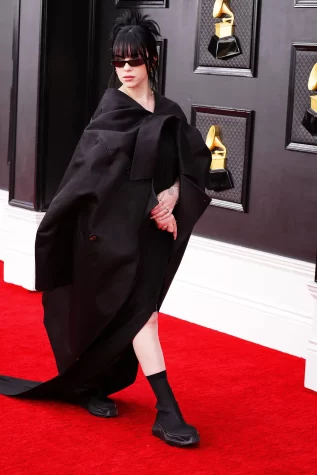 Next on my list is Billie Eilish. Now, I typically love what she wears on the red carpet and for other events, but this one disappointed me. What is she wearing? It looks like the designer of the garment made a hole behind the collar of the jacket and Billie put it over her head. Although, it oddly fits her. I don't dislike it a lot; rather, I think it plainly looks weird. I will give her points for the shoes and accessories, though. I rate this look a 6/10.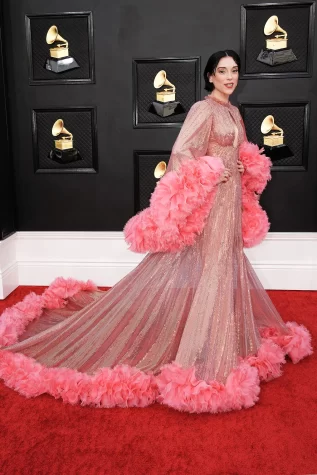 Another one of my favorites is St. Vincent. Everything about this looks so elegant, the trim at the bottom of the dress/sleeves, the sparkles, all of it. I think she looks purely amazing in it. I also like how her hair is done up; I feel like it brings more attention to the dress rather than anything else. The only thing I have to comment on is the slit in the middle of the chest part. It feels strangely placed and could have been left alone with that part being sewed together. Overall, I rate this one a 9/10.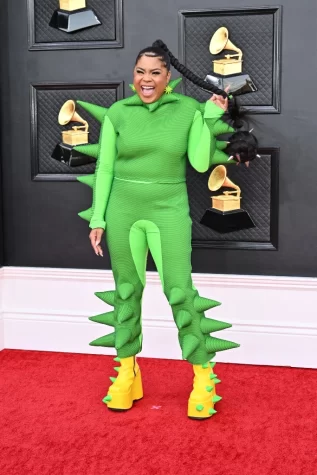 Next up is Tayla Parks. Now, to be brutally honest, before I even went on the internet to say what people thought of her outfit, I thought she looked like Bowser from Super Mario. After doing further research from Twitter and other social media sites confirmed my thoughts, apparently that was her whole intention. To look like Bowser. From Super Mario. To the Grammys. Honestly, I give her a 4/10 simply because she wore it.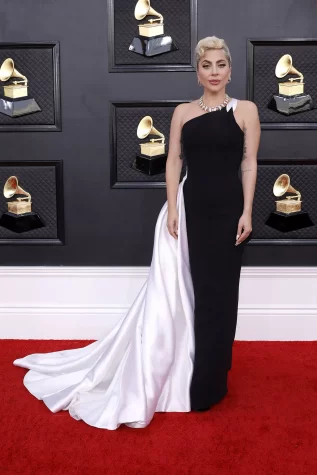 Moving towards the end of the list is Lady Gaga. To put it plainly, I love her dress to pieces. It gives me a Cruella de Ville feel with the white and black contrast. It looks like the white part of her dress stems from her left shoulder and flows throughout the back and into the front, which is one of my favorite details about it. The necklace that she wears too gives somewhat of a statement without being too much as well, which I also noticed and really like. I give this look a 9.5/10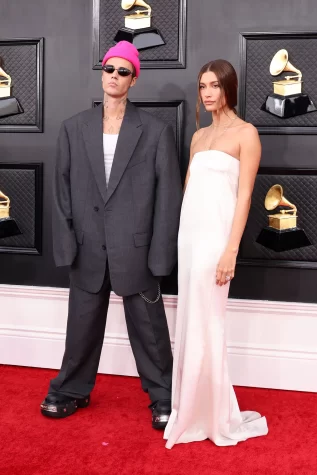 Lastly, is Justin and Hailey Bieber. Honestly, I don't like either of their looks at all. Justin's suit is obviously way too big and is incredibly ill-fitting. Also, that pink beanie looks so random and out of place. Especially to a widely-known event too? Please. Also, Hailey's dress looks too plain for my liking. On top of that, it looks like it's too low on the top half of her body which is causing it to be too long towards the bottom. Overall, I give both of their outfits a 2.5/10.
Leave a Comment
Your donation will support the student journalists of Neuqua Valley High School. Your contribution will allow us to print our next news magazine! It will also help us purchase equipment and cover our annual website hosting costs.
About the Contributor
Olivia Durcan, Staff Writer
Olivia is a second year member of The Echo. Their hobbies include listening to K-pop, hanging out with friends, and going on walks. In the future, she...