Cheer conference competition: Neuqua Valley advances on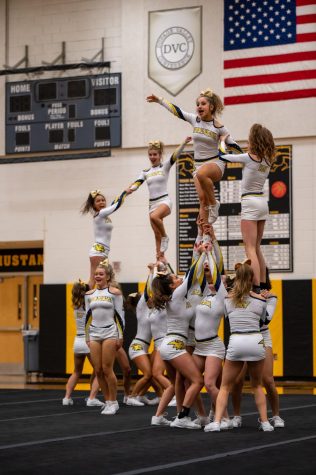 On the 19th of January, at Metea Valley High school, the seven 204 district cheer teams competed at conference, commencing the end of their competitive season and transitioning into their play-offs.
Cheer, being almost a year long season, consists of football season, basketball season and their competitive season, with their next season's tryouts before May. The team goes through a long and arduous process of trying out and training and having long practices, in addition to outside practices for tumbling. This practice is quite across the board for most of the schools in the 204 district, which definitely showed through during their performances, with many teams executing several stunts such as kick hitches, heel stretches, fulls and pyramids.
Metea was the first team to perform, introducing themselves with their home cheer with explosive energy and excitement. With their team being the only cheer squad in the district co-ed, they certainly had an advantage. With more manpower, flyers are able to go higher and only one person is needed as a base, compared to needing three or four girls to support the top person. This allowed the team to set aside more time for stunts and more to go on, increasing their points. Metea ended their flawless performance maintaining their high energy at the end, rousing a thunderous applause from the audience. Going first, they certainly set the bar for the rest of the teams.
This competition definitely showcased the diversity of different skill sets, with many teams not able to complete their routines without mistakes, while other teams performed their routine flawlessly. Waubonsie, with their smaller team, had many falls, and the highlight was even a shoe being thrown into the crowd from a kick move. Naperville Central and North both used props and their school flags to build on their routine, both performing with high energy and utilizing their tumbling skills of fulls and tucks. However, each rendition did include a few falls or point reductions. For example, if the cheerleader steps off the mat or when a flyer hits the ground, those actions result in points off.
Another point to highlight is that despite the variations of all the district teams, they are still scored the same. Smaller teams have the advantage of less people so less mistakes; however, bigger teams, like Neuqua Valley, have a higher chance of inaccuracy.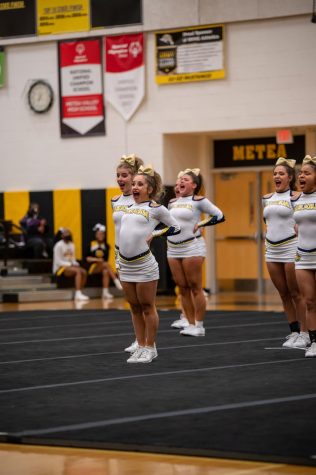 Neuqua Valley had a large support system in the audience, with parents, coaches and peers there to cheer on the cheerleaders. The cheer team performed with high energy and compatible synchronization, with many impressive tumbling passes by Olivia Baren and Amelia Greenfield, both juniors. However, the team suffered significant point reductions due to multiple falls and mistakes, showing just how hard of a sport cheerleading is.
All teams put in their best effort and will be moving on to sectionals, with Metea winning a deserved first place, Central second, and North placing third. The Echo wishes Cheer good luck in the next few competitions to State, happening on February 4th and 5th at ISU.
If you're interested in this spectacular sport, put February 4th and 5th into your calendars and show your support for our cheer team!
Update 1/31/22: After placing 5th at their conference meet, the Cheer Team quickly turned around and blew the competition out of the water placing 1st at their sectional meet. The cheer team looks to build on their outstanding performance at the upcoming state meet Feb. 4th-5th.
Leave a Comment
Your donation will support the student journalists of Neuqua Valley High School. Your contribution will allow us to print our next news magazine! It will also help us purchase equipment and cover our annual website hosting costs.
About the Contributors
Abby Apeland, Staff Writer
Abby is a junior and a second year member of The Echo. She is involved in Track and Field, focusing on pole vault. In her free time, when she has any,...
Sachin Fong, Editor-in-Chief
Sachin is a senior and a second year member of The Echo. He is involved in Track and Field, Cross Country, photography and music. He has a dog, and she...