Dress codes: why they're harmful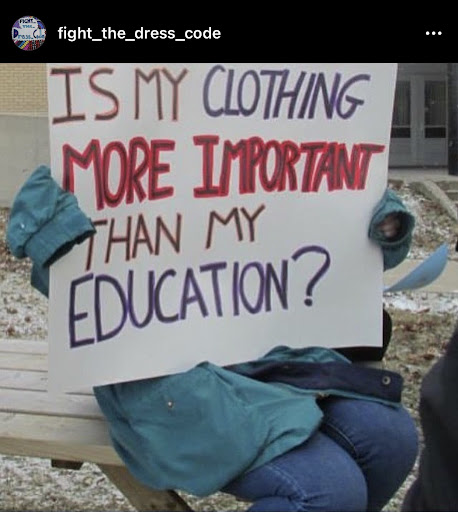 At a young age, more specifically in elementary and middle school, we were taught by our teachers what clothes are "acceptable" and "appropriate" to wear to school. I remember in fifth grade, a teacher made the girls in my class line up and made us put our hands at our sides to make sure our fingertips didn't go past our shorts. I was only ten years old and was unconcerned about why we had to make sure our shorts weren't too "short." That situation did leave a question in my 10 year old self's head.
Did we have to do this so we wouldn't be distracting to boys or distracting to teachers?
In high school, dress code enforcement has gotten worse than ever before as our bodies have been changing and developing. Having to hide our bodies has been ingrained into our minds because if we don't, our bodies will be sexualized and objectified. Some of the things that girls can be dress coded for are bare midriff, "short" shorts, cleavage, shoulders showing, sleeveless and backless tops which have become outlawed in schools all over the country. The dress code is sexist in a way where girls are limited to what they can wear while boys don't even have to worry about what their outfit is because there is no chance of them even getting dress-coded.
Clothes are how we creatively express our individuality and identity. Without that sense of expression, how else could we show our style and let our personalities shine through? Students' educations have been getting disrupted, and believe it or not it's not from shoulders; it's from students being taken out of the classroom to be told by a teacher that they have to change. When a student gets called out of the classroom, it's not only taking a student away from learning, it's also humiliating the student.
Despite these concerns, I believe that Neuqua did a good job of changing their dress code this year. In the Neuqua student handbook it states "the school district is responsible for seeing that student attire does not interfere with the health or safety of any student, that student attire does not contribute to a hostile or intimidating atmosphere for any student or staff."
It almost seems like the dress code in past years was more mandated than wearing a mask the correct way.
This statement can be interpreted any way, but how I interpreted it was that as long as no one gets harmed by what another person is wearing, then it's acceptable to wear. It almost seems like the dress code in past years was more mandated than wearing a mask the correct way. Wearing a mask incorrectly is definitely endangering my safety compared to a girl wearing "short" shorts.
There have been some schools that have been making changes to their dress code guidelines, but change hasn't really been happening. Students have still been getting dress-coded over their clothes, even when it seems that the outfit isn't inappropriate. Some students decided to retaliate to their school's dress code: Naperville North had boys wear crop tops to school to protest the dress code on behalf of the girls.
I do think that there are certain ages where kids shouldn't be wearing the things that they are wearing, but as long as it's not affecting me, I think it's okay. At the high school level, I believe that students are old enough and mature enough to pick what clothes they want to wear without having the input of others.
I still think that we are a long way from getting rid of the dress code since some states are more conservative and want their students in school to be wearing modest clothing, but it doesn't change how toxic dress codes have been for girls.
Leave a Comment
Your donation will support the student journalists of Neuqua Valley High School. Your contribution will allow us to print our next news magazine! It will also help us purchase equipment and cover our annual website hosting costs.
About the Contributor
Jaclyn Bobbe, Staff Writer
Jaclyn is a senior and a second year member of the Echo. She is involved in Student Council, and she's on the gymnastics team. Her hobbies include binge-watching...