Kelly Simon: a dedicated mentor for Neuqua's Wildcats retires as head girls' volleyball coach
Lily Ha, Editor-in-Chief
December 19, 2021
For Kelly Simon, prioritizing family has been a long due commitment.  
Simon, Neuqua Valley High School's volleyball coach, recently announced a retirement which has come as a big surprise to the school. Albeit stepping down from her position as an exceptional volleyball coach, she will continue to remain an educator at Neuqua.
She now has a 27-year coaching career at the high school level. Simon started her coaching position at Reed-Custer in 1994 and moved to Neuqua in 2001. Proudly, Simon has a record of 421-264 during her tenure at Neuqua. Under her exemplary leadership, the Wildcats accomplished two regional championships and three conference titles.
When asked if there were any specific reasons to retire from a volleyball coach of 20 years at Neuqua, Simon explained that she wants to put her family first. Her husband Mark Simon, who currently teaches at Metea Valley High School, agreed and supported her on this decision.
Simon's son, Christian, who has autism, recently took a part-time job after graduating from Waubonsie Valley High School. He is currently participating in District 204's STEPS (Supportive Training Experiences Post-Secondary), a transition program for young adults with disabilities. Her daughter, Aubrey, is a junior at Waubonsie Valley and is planning to tour colleges this summer. Thus, Simon wants to focus on being there for her children.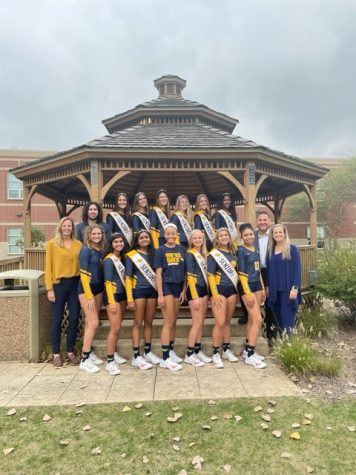 "I have always told the girls that family is a priority over volleyball. Yet Mr. Simon and I honestly have not made our family the priority over volleyball. Volleyball has always been the priority. And with these family changes, we definitely need to be available for our kids and for each other. We just need to create more time to be devoted to our family. Secondly, why I did not make this decision sooner is because Christian was in school, Mr. Simon would be teaching like I am, and Aubrey wasn't ready to look at schools yet. But more importantly than that, I absolutely love coaching. It is my passion, and I certainly love teaching as well."
Simon is still in the process of letting go and feels bittersweet from moving onto a new chapter in her life.
"I'm still in a transition period," she admits. "I'm still wrapping up some things from the season. Yes, it was a very difficult decision. I absolutely love my girls. I am so grateful for the relationships that I've established with the athletes, the coaches, and the athletic department. I'm going to really miss the camaraderie with the other coaches, not only at Neuqua Valley but throughout the area."
Simon states that some of her dearest friends and colleagues are across Illinois at other schools, and they closely interacted through volleyball games. She cherishes her relationships with them and plans to maintain those friendships and relationships through her transition and beyond.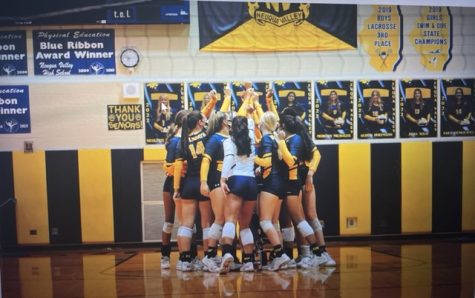 When asked if there was a specific season that stood out to her and was really special to her, Simon said she doesn't think there's a specific season or a moment that stood out to her and was really special to her.
"I think there was a lot of growth in the good times and the bad; celebrations and adversity, and challenges came about along the way," she declared. "But we worked together and we grew because of all of the different things that would come along our way. You go into a season and you never know what that season is going to look like."
Through Simon's words regarding her special bond with the athletes, it was clear she valued the various relationships she had created over the course of her coaching period. Simon treasured all her moments as a leader, a friend, and an educator on the court, both the wins and the losses.
"My most successful seasons are not always my best just because of their record," Simon revealed. "They're the best because of the athletes who were a part of that team. Whether or not we had the most wins or did not have quite as many, ultimately, the wins that I have in a season or tournaments we won go beyond just the numbers."
Her years as a coach brought growth to her and her students, as Simon recalls their transformation from young teammates to mature athletes. She is beyond happy to have been able to go through many moments together as one.
"I think it is the memories that we share. It is the bonds and the relationships that we established, and the opportunities that the athletes embraced. We grew together, and I remember most of what I want for myself and for my athletes- I want them to cherish those memories."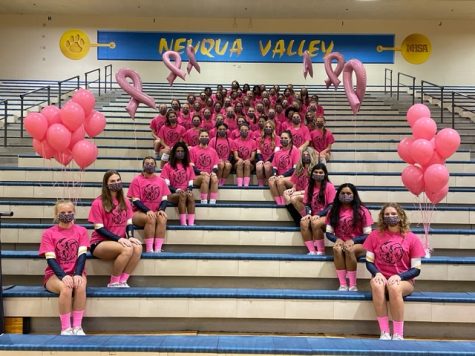 Through her career as a coach, Simon has shown relationships and interactions with her athletes both on and off the court.
There have been a lot of trials and cultivated tribulations from season to season at Neuqua Valley High School. Many of the athletes go through challenges and difficult times.
But Simon says that they "are a family and she has tried to do all she could to support her players and their families."
Kelly Simon believes that because of the girls' passion, hard work, and talent, the success of the program will continue, and she is sure that the administration will choose someone who will do an amazing job with the program.
Her last words to the girls that have looked up to her, as well as the athletic department itself, were as follows:
"It has been such an honor and privilege to coach each of you, more importantly, to get to see your growth and development over the years into young women. I do not have words to express my heartfelt gratitude for my coaching journey at Neuqua Valley, but I know it is time for me to turn the page into the next chapter. And I want to wish all the athletes and their families and the coaches the best of luck for continued success."