Zooming Tutors, a free tutoring opportunity for middle school students by high school students
Zooming Tutors is an opportunity for middle schoolers to receive free tutoring from high schoolers through Zoom. The program was created in  2020 by a Neuqua Valley High School student—now a freshman at the University of Michigan—Rewa Narsana, in order to help students further develop their skills for school, especially during the time of a troubled economy and an unfamiliar school system like in quarantine. She had originally started it with a few of her friends asking around for anybody who would be interested in the program, and it eventually ended up spreading to other states.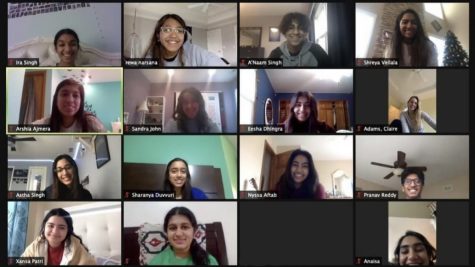 "The subjects we offer are math, science, ELA, social studies and music… so if you're taking a course class or taking an instrument then you can also specialize in and teach students that subject," Priyanka Ayyalaraju, a freshman member of the relations team, says.  
"Some of the benefits are [that] there's no cost, so it's all affordable and you don't have to pay a fee or anything like that. It's very easy, flexible scheduling, so whenever you have time you can join a class- it's not something you have to commit to every week you can join whenever you're free." 
Zooming Tutors was made to be easy and affordable for the convenience of anybody who would like to tutor or would like to be tutored. There are four teams in Zooming Tutors that contact potential tutors and students, organize their meetings, use social media platforms to spread the word, and do fundraisers in order to keep this cost-free program running: the relations team, the operations team, the marketing team, and the fundraising team, respectively. The four of these groups, along with the multitude of tutors, work hard in order to provide their students with anything they need. 
"I love tutoring my student," a freshman member of the relations team in the program, Anya Acharya, says. "It helps me understand what I'm teaching [them]. It just feels good knowing that I'm helping someone with their grades that will eventually lead to impact their high school career."
Because the tutoring is free, the program is for volunteering high school students who care very much about the educational wellbeing of others and are offering their support to the community around them. Zooming Tutors is currently looking to recruit more high school students to help with tutoring more middle school students and are hoping that any student interested will reach out to any people they know that may be interested as well. 
There is also an option for high school students to be tutored by volunteering college students in an organization called Zooming Advisors. 
"There is a sister organization to Zooming Tutors called Zooming Advisors, and this is college students which are helping high school students with things like interview prep, essay editing, resume building," Sharanya Duvvuri, a junior at NVHS and the chief relations officer of the program, says. 
"There's a website for both of them. Our Instagram is @zoomingtutors and @zoomingadvisors. It's really easy to sign up; it's just a Linktree Google Form and then people will get back to you. It's really easy and really flexible."
Zooming Tutors is also hosting a one-day coding class as a Halloween event in order to bring code into the program to make things more enjoyable for the students. 
"It's just a one-day event, we just want to get on Zoom and at least get Zooming tutors related to code, because we know that code is the latest thing these days, so we're trying to do a Halloween event because that's more fun for kids."
Both Zooming Tutors and Zooming Advisors are good opportunities for middle schoolers, high schoolers, and college students alike as a learning experience and a teaching experience. High school students can use this to put on their resumes and also keep their grades up if they need help. The organization's current interests involve spreading the word about its programs in order to help more students around the country.