Crumbl: one smart cookie
On June 17, 2021, Crumbl Cookies opened its doors in Naperville Crossings to an eager audience of cookie enthusiasts. Many residents in the area like to go there for their unique, delicious cookies, which makes it a very popular spot with usually long lines. The thing that makes Crumbl Cookies different is that their menu switches each week with the exception of two regulars: Milk Chocolate Chip and Chilled Sugar. On Monday, Aug. 30, I decided to go and rate this week's flavors which are Caramel Pumpkin, Classic Oatmeal, Chilled Sugar and Galaxy Brownie. I would've gotten the Cookie Dough one in place of the Chilled Sugar, but they were unfortunately sold out of it. I decided to rate the cookies on a 1-10 point scale, 1 being that I would never try this flavor again and don't recommend it and 10 being that it was the best cookie I've ever eaten and I highly recommend it. I took into account the taste, presentation and texture of each cookie for each of my ratings.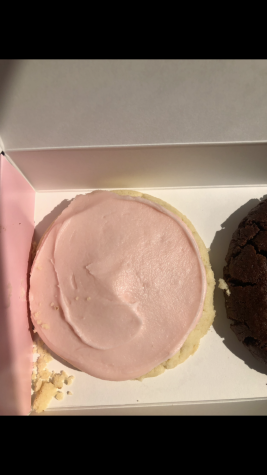 The first cookie I tried was the Classic sugar cookie which is topped with pink almond flavored frosting and is served chilled. For the taste, it tasted exactly how you would expect a sugar cookie to taste, but it was a little too sweet in my opinion (which is where this cookie lost some points). For the presentation, it was already falling apart in the box (as seen in the picture), and it doesn't look to be anything special compared to the other cookies. For the texture, it was really soft on both the outside and the inside, so if you like eating soft sugar cookies then I would recommend this cookie for you. I gave this cookie a 6 because the presentation and taste could've been a little bit better, but then again, you can never go wrong with the classics.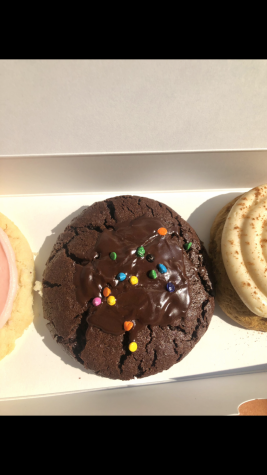 The next cookie I tried was the warm Galaxy Brownie. This cookie was a spinoff of the beloved galaxy brownies we always ate at lunch in elementary school. For the taste, it tasted exactly like a brownie, and I believe that anyone who likes chocolate would definitely enjoy this cookie in all of it's chocolatey goodness. For the presentation, I felt like it could be better because the fudge glaze didn't cover a lot of the cookie. The texture of this cookie was really good; the outside was soft but it could still hold itself together, and the middle had delicious gooey chocolate. I gave this cookie a 7.5 rating because the taste and texture was perfect but the presentation could have been a bit better, but I definitely recommend this cookie for chocolate lovers.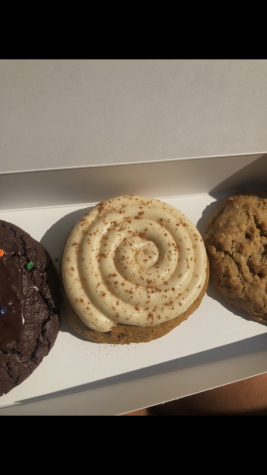 The next cookie I tried, which was Caramel Pumpkin, is probably one of the best cookies I have ever tried. It's a warm pumpkin cookie with caramel cream cheese frosting and sprinkled with pumpkin pie spice. The taste of this cookie was heaven in my mouth, and it reminded me that the season of fall is right around the corner with pumpkin spice and everything nice. It tasted exactly like pumpkin pie, and the frosting with the pumpkin spice flavor was just an added bonus. The presentation of this cookie couldn't have been any better; the frosting was a perfect swirl on top of the majority of the cookie. The texture of this cookie was absolutely perfect; the whole cookie was soft but it held itself together really well. I gave this cookie a 10 because everything was perfect, and it couldn't have been any better. I recommend this cookie to everyone; don't miss out on it!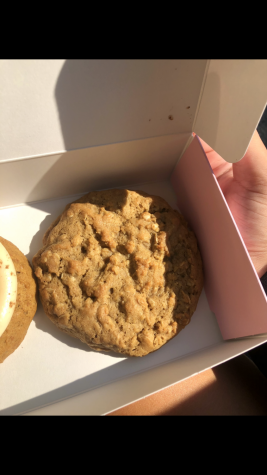 The last cookie I tried was Classic Oatmeal which is a warm oatmeal cookie that's been infused with molasses and vanilla. I don't really like oatmeal in general so I assumed that I wasn't going to like this cookie, but that wasn't the case. The vanilla complimented the taste of the oatmeal perfectly, so I enjoyed eating this cookie. The presentation didn't look that good, but I wasn't about to judge a cookie by it's cover. I expected the texture to be crunchy but only the outside was, while the inside of it was soft. I gave this cookie a 7 because even though I don't like anything that has to do with oatmeal this cookie was still not bad.
Overall, Crumbl Cookies is a place where anyone of any age can go to enjoy different flavors of cookies. Even if you don't like the flavors of a certain week you can always go next week and have a menu full of new options that you can choose from, which means there's a cookie for everyone.
About the Contributor
Jaclyn Bobbe, Staff Writer
Jaclyn is a senior and a second year member of the Echo. She is involved in Student Council, and she's on the gymnastics team. Her hobbies include binge-watching...