Cambios al currículo inglés compartirá historias de razas representativos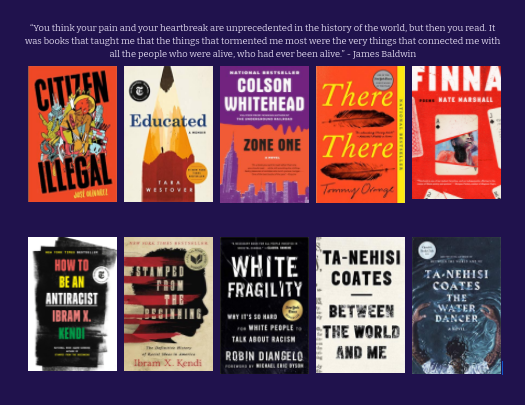 Artículo Original: Changes to English Curriculum to Share Racially Represented Stories por Nwanne Nwosisi
El verano pasado, el departamento de inglés decidió cambiar el currículo de los libros que necesitan enseñar. El presidente del departamento de inglés de Neuqua, Karen Lawson, dijo que "reading makes us more human and grows to understand of people's stories that are not our own," así que el departamento ha decidido lanzar un selección de libros que empiezan un discusión con asuntos razas. 
Las temas de los libros en general compartir los mismos temas de identidad, cultura, género, raza, sueños, nuestros viajes de vida, etc. Lawson explica que ellos están tratando "expose students to a wider range of contemporary, living writers who bring stories with different perspectives regarding gender, culture, identity, race, and voice." Ella quiere estudiantes desde los grados 9-12 ser expuesto "more than dead white male writers" además que representa la población de Distrito 204 en conjunto. 
La no ficción del texto The Other Wes Moore escrito por el autor afroamericano Wes Moor y The Marrow Thieves de un autor de ficción Cherie Dimaline, que escriben sobre la experiencia indigena, les dieron a las personas de noveno grado. Además, profesores en todos las tres escuelas secundarias están experimentando con ciertos libros y recibiendo reacciones de los estudiantes sobre si estos títulos se deben convertir en textos permanentes. El próximo verano, Mike Purcell, director de Core Curriculum, equipos de escritura de currículo planean en "regroup[ing] and share[ing] feedback and either add[ing] or delet[ing] pilot titles," Lawson continua. El objeto en general de él es "to add contemporary, high-interest novels into the curriculum that offer a diversity of stories." 
Aunque se está haciendo progresa, la profesora de noveno grado Christina Jakubas se siente que ellos "not doing enough to really invoke change, and [we] should pay close attention to what voices are heard, what voices are not heard. I am also thinking about how my white students will react to these stories. I don't want them to only see black people as only being enslaved." Jakubas cree que "arranging diverse stories as choice novels would give them more options to read what makes them comfortable rather than what needs to be learned, as opposed to anchor texts." Un senior, Keira Apeland, compartió su opinión en el cambio, dijo que su profe de inglés antiguo, Melissa Wilson "keeps the students more involved and listening" sobre qué están leyendo y ella permite más discusión. Ella cree que Naperville y las comunidades circundante pueden ser como una burbuja, y estas historias ayudan ensanchar los perspectivos de las personas. 
Como Lawson dijo, "Stories are like mirrors and windows. We want to expose students to stories with characters they can see in themselves as in mirrors, and characters that open them to different ways of thinking as in windows."