Why "The Prom" isn't good LGBTQ+ representation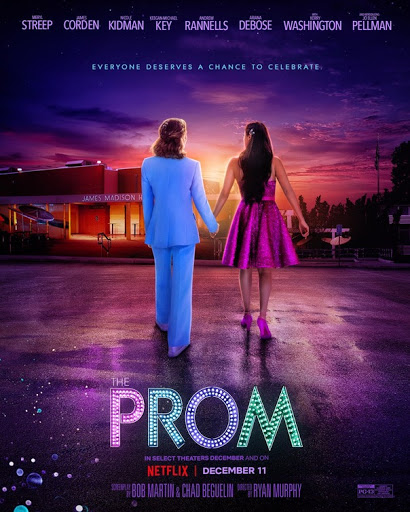 During the pandemic, Netflix has continued to produce content, despite the circumstances. The company has released many new TV shows and movies. One of the more recent major films is a movie based on a musical of the same name, "The Prom." The original musical follows the story of a high school student, Emma Nolan, who struggles with growing up lesbian in a homophobic town. The movie version seemed like at first that it may uphold the same standards as the musical, but it failed. No matter how good the cast, and how much money they put into it, they still missed the point of the story.
"The Prom" is about four broadway actors helping Emma go to prom because her school didn't want her to be able to go with her girlfriend. You would expect the movie to focus on Emma, but the majority of the movie focuses on the four actors helping her. Even though the movie is advertised as an LGBTQ musical movie, it felt like Maryl Streep's character, Dee Dee Allen, was the main character. I have no problem with Meryl Steep, but when I started watching the movie I was excited to see a story I could relate to as a young queer person. What I wasn't expecting was two hours of watching an old straight lady have more screen time and a better character arc than Emma, who was supposed to be the main character of the film. Even when Emma was on screen, I didn't find her character to be believable. She was so unrealistically happy all the time, even when she was constantly getting hate crimed for just existing. Not to mention that the two girls bullying her had more chemistry than Emma and her girlfriend. I was more invested in the romance between Dee Dee and Trent Oliver, Emma's principal, than Emma and her girlfriend, Alyssa. I think the part I disliked the most was when the main antagonist of the film, Alyssa's homophobic mother, suddenly went against everything she had done in the movie and supported her daughter and her relationship with Emma completely. The film had potential, but it did not do much for me.
If done correctly, "The Prom" would make a fantastic movie. They had everything they needed to make it great. They had a talented cast, an active fanbase, and a popular streaming service to be accessed on. Still, in the end, "The Prom" is a mediocre musical movie that's not worth remembering. Even though it had big-name actors and amazing source material, the end product wasn't as good as it should have been. I don't hate the movie, there were actually a lot of enjoyable parts in it, I'm just incredibly disappointed with everyone who worked on it. I am hoping that the next LGBTQ+ film Hollywood produces will actually be about the queer characters.