The sandwhich in the rye: Celebrating National Hot Pastrami Sandwich Day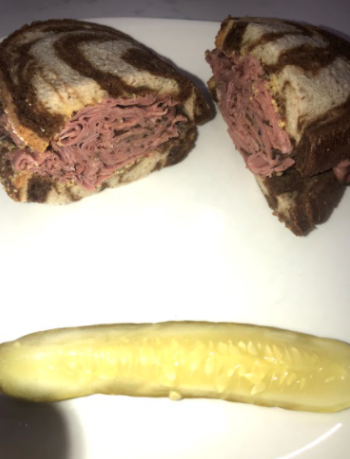 After a long deserved two week break, I realized that it was time to stuff my face with more amazing food. Since Hanukkah came and went super fast, I started missing Jewish foods. Luckily for me, January 14th is coincidentally a national holiday, specifically Hot Pastrami Sandwich Day, yum!
Schmaltz Deli, located in Tower Crossings Associates (1512 N Naper Blvd #152) is a "Daytime counter-serve Jewish deli for classic sandwiches, soups & breakfasts plus modern salads." It is the only Jewish deli west of Chicago in Illinois. It's no wonder their lines to get in are typically very long. All of the food that they serve are traditional Jewish delicacies, as well as a sandwich called "The Overstuffed."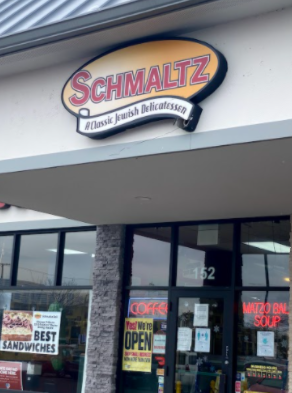 "The Overstuffed" is a sandwich filled with double the filling as normal, leaving you not only full but in a possible food coma. I set out to find a hot pastrami sandwich to satisfy my Jewish food cravings since I have been deprived of Matzo Ball Soup, Afikoman and Sufganiyot for a long time!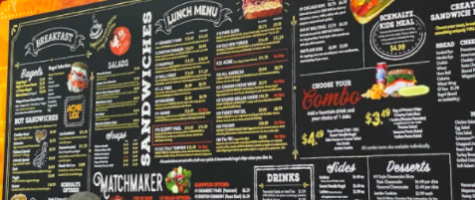 I sent my mom 20 minutes away to get me a hot pastrami sandwich, and she ended up getting Schmaltz famous chips-bagels baked down into a chip like consistency. The hot pastrami sandwich was made with marbled rye bread, stone ground mustard and a choice of regular pastrami or lean pastrami.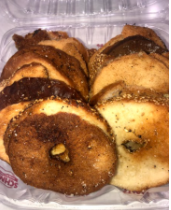 The sandwich was really well done and had a ton of flavor for a limited amount of toppings. Even half of the sandwich was enough to fill me up, so you are guaranteed to have leftovers! I personally did not order the overstuffed option, but next time I will for sure try it! Of course, the bagel chips were incredible, no surprise there. My Jewish cravings were finally put to rest, but I may be substituting the Challah on Friday night Shabbat with this sandwich!