Interact's impact on the pandemic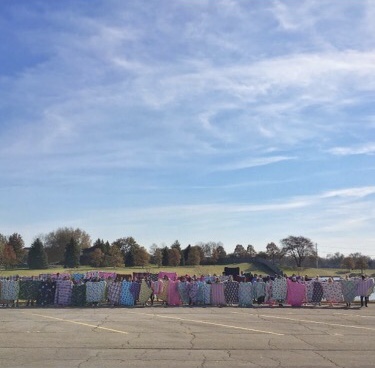 Interact is a community service club at Neuqua Valley High School that is dedicated to helping communities locally, nationally and internationally. The club is sponsored by the Naperville Sunrise Rotary Club, which branches from Rotary International, an international community service organization. At Neuqua, the club is cosponsored by English teachers Gillian Schneider and Laura Dabezic, and it is led by 14 students on the executive board. 
Through the club, members are able to volunteer locally for community service hours. These events include the E-Tutoring homework club, setting up, collecting donations, and taking down Naper Lights, writing letters to deployed troops and many more. Each event is led by one or more members from the club, and these members are referred to as the committee head for that event. The club often partners with Neuqua Valley's UNICEF and Student Council for additional opportunities.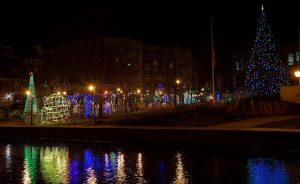 Interact hosts their meetings over Zoom every other Monday. At this time, Neuqua clubs are not permitted to meet in-person. However, Interact was able to participate in Naper Lights and members assisted in setting up Christmas decorations in Downtown Naperville. This event was hosted by the Naperville Sunrise Rotary Club and the event coordinators enforced all CDC guidelines including wearing masks, sanitation and social distancing.
Due to challenges concerning the pandemic, many projects had to be adapted to a safe and mostly online format. Schneider says that "almost everything had to have some sort of modifications because of COVID." 
In October, Interact collaborated with UNICEF for a project called "Trick or Treat for UNICEF." Public relations officer, Gabrielle Iglesias, recalls it being "much smaller and more difficult to transfer into a digital version," and that "the effect was much smaller, which is normal." Despite this, changes to projects and varying results from how they were last year "were to be expected." 
Interact has also done many projects with elementary schools including science fairs and multicultural fairs. Vice President Alex Del Genio said that these events are "a little bit harder to organize online than it would be in-person," and that the process of organizing these upcoming spring events has been "very challenging to figure out if that's even possible to do." 
With these tough challenges, some projects have also been canceled. Interact's annual Turkey Trot and Barnes and Noble gift wrapping event were unable to be replaced or formatted safely. Secretary Zehra Shah said that it was "very tough letting those two go." 
Public relations officer Sanjay Ganesh added that one of Interact's projects, senior citizen tech classes, has also been difficult. In this project, members taught senior citizens how to use technology to connect with family and how to say safe on the internet. These classes were offered to seniors in the Naperville Park District from September to October over Zoom and Facetime. Ganesh said that "we managed to get it to work, but you could see what challenges might have arisen." 
Although the club has faced these hardships, Interact has still been able to make large impacts in the community. As a positive, Iglesias said that "one interesting part about this year for Interact is having more time to think about what needs to be done, who to commemorate, who to think about." One notable example of this was their blanket-making event. 
At first, the executive board thought that they would have to cancel their blanket-making event. President Nora Schneider said that they "were a little disappointed" by these thoughts because "there's a greater need for blankets and the community has a lot of people out of work and struggling."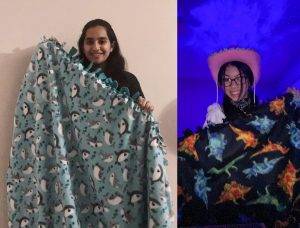 Despite this, Interact was able to make this an independent event with some members receiving materials through drop-offs or buying their own. In total, Interact made 133 blankets, which is about double the amount they make normally. Schneider says that they were "really glad to see that participation from people." These blankets were donated to those in need through the McKinney-Vento program, Alliance for the Children and the Illinois Department of Children & Family Services. The scraps from the project were used to make dog toys for local humane societies. Schneider also mentions that this had been "one of our biggest events this year" with sponsor assistant Hajun Lee, committee head Sanjana Bonthu and Shah coordinating pickups and drop-offs which extended the event over a month and a half.
Additionally, Interact has added new events and projects. Del Genio states that "we've had to come up with more events that never existed before." Some examples are the Halloween read-a-book flipgrid, creating mental health passion videos and the community litter pick up.
This year, Interact has over 100 members. Shah expressed, "when times are so hard for everyone, I feel like the one thing that gives you the sense of responsibility is giving back. The firstline workers are doing as much as they can, but by doing a lot behind the scenes, even the tiniest actions, students find a purpose in serving in communities." 
Vice President Sameer Jain who volunteered greatly with the senior citizen tech classes also commented on how it is "interesting to see and meet people whose lives have been so drastically different and help build bridges." 
Despite the pandemic, Interact has continued to make impacts in the community. The impact can be attributed to all the members of the club, but Schneider also claims that "everything has had some type of adaptation just to make it work and it takes the leadership of these young kids to make it work."