Logan Jones: music that reaches for the stars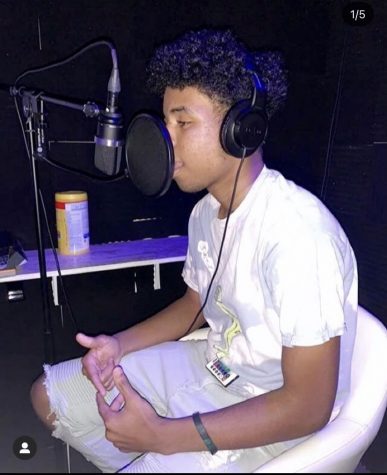 Many Neuqua Valley High School students can say that they are involved with music in some way or another; however, not many can say that they create it themselves. This isn't the case for Logan Jones, a senior that produces and vocalizes his own songs. Jones has released multiple songs on Soundcloud and Spotify under the artist name "Spacey." After I reached out to him, he agreed on giving me some of his time to answer questions on what music means to him and his future career.
Every artist has a beginning. Jones explained "in eighth grade, I was at a lunch table, and everybody was like…' we finna write some raps,' so I went home and started… And I was like ´Lowkey I can do this pretty well'…I took a break for almost three years, and that's when I decided that I wanted to do this seriously, and came out with more music."
With songs like "2020 Vision", "Raiden" and his most recent single, "Dreams N Reality," Jones has slowly been building up his repertoire as an artist. Jones says he makes music because "It's a way for [him] to… speak on topics, that [he] wouldn't really speak on [in person]." He elaborates, "You can't really speak with everyone individually, so I feel like [through] music, I can get my message across to a bigger audience… I really use it [as a tool to] connect with and understand people." His words echo a common theme in his music: one of empathy and inspiration. Jones says that his message is that," Everybody goes through hard times, and I feel like we need to normalize people experiencing pain, because it's a universal thing. I don't care how perfect your life is, you experience pain, in the slightest degree or the highest degree."
Every artist also has their unique style and process. In response to a question over his style, Jones answered, "Man, I wouldn't say it's just rap… You could say it's rap, r&b, a little pop, but not really 'pop.'" He says the instruments he uses are guitar and piano which he explains is because "when you hear a guitar playing in a song, it just makes [people] think of summer, you know? Summer, Springs, good vibes. As for the piano, that gives me more of a 'I'm in the city vibes,' it's raining… You know, one of those typical movie scenarios. It's more sad." With a friendly smile appearing on his face, he exclaimed his answer to a question about his writing process. "I'm really happy you asked me this question. I always say… The beat is the foundation of the song. You can't do nothin' without the beat. I sit and listen to the beat, sometimes for weeks, and figure out what I want. I'm usually in my room, on my phone. I listen to a couple of different artists to see what I like about their songs, and try to incorporate it into my songs. Sometimes I turn on colored lights, because it helps me make the mood. I always write my love songs in red lights. I always write my turnt songs in green lights. Finally, I always gotta run my songs through my homies. I ask them what they do like or what they don't like, and I know that they always gonna keep it honest with me." Jones says his inspirations are, "DDG, Speaker Knockerz, Juice Wrld, Lil Wayne…Noza Jordan, one of the people that went to Neuqua. That one feels really close to home."
Finally, I asked him about his future and thoughts on music culture at Neuqua. When I asked him how he balances the mentality of being different from the traditional musical culture at Neuqua, he stated, "yeah, people have told me that it's far off to do, but it doesn't seem so far off to me. Why would I want to do the same thing as everybody else? I wanna have something to show for it, you know what I mean? I wanna be one of the alumni showing other students that you can make it [being different]." Jones plans on majoring in music production, and possibly pursuing a career as an artist. When asked if he would make music as a career regardless of the money that he makes, he responded with, "If I'm not making money from it, I'm gonna find another avenue to make money. I am going to pursue a degree in music production, so obviously, music might not work out, anything in life might not work out… [a degree in] music production lets me still make money if that doesn't work out and still be musically inclined."
When I asked him if he had any last words to younger students who may want to try making music, he gave me his signature smile for the last time before saying,"All I gotta say is, don't knock it till you try it, because you don't know. A lot of people can be great at anything… A lot of people have untouched talents that you don't really connect with because they don't know. Everybody has an opportunity, you just gotta go deep within yourself and find that. You can create anything you want, they just need to have [the right] mindset, so don't be scared. That only holds you back."
To find out more or listen to some of his music, click on one of the following links below.
https://open.spotify.com/artist/4i76BF5qoFOBVvK8ExsWl4?si=VhphcHcwSvyRBp4j3mwetw
About the Writer
Enoch Kim, Staff Writer
Enoch is a senior and a first-year member of The Echo. He is involved with Track and Field and local politics. His hobbies include playing basketball,...