Crystal Concert brings warm music wishes to cold winter nights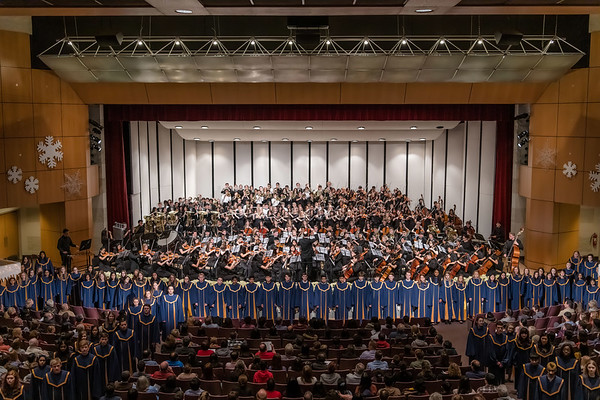 Since its opening in 1997, Neuqua Valley High School's Fine Arts Department has hosted an annual Crystal Concert in celebration of the holiday season. The concert spans over four days to allow parents, the public and invitees from senior homes to see the effort that Neuqua's young musicians have put into their work over the past few months.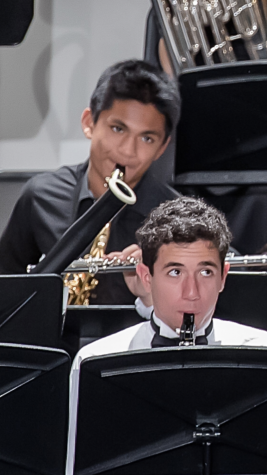 Charles Staley, previous chair of Neuqua's Fine Arts Department, introduced the format of a seamless concert in the early 1990's when he worked at Waubonsie Valley High School. While teachers were skeptical of the event, it became an instant success, and following the opening of Neuqua Valley, teachers immediately planned to host a Crystal Concert of their own.
Many years have passed since the Crystal Concert was introduced, but current Fine Arts Department Chair, Jonathan Lauff, described how the event still continues to be a learning experience for both directors and students.
"The music teachers always have a lot of our concerts on our brain all year round. A lot of us will at least, at the beginning of the year, plan out 'here's what we'll do for the October concert, and here's what these kids will do for the Crystal Concert.' We kind of do that just to make sure, curriculum-wise, we're hitting all the ideas that we want to hit. All the music selections are based on what we want the students to learn as far as music performance."
In a normal school year, the directors would simultaneously prepare the students while organizing the concert behind the scenes. Mid-October is when forms for group auditions typically begin to be sent out, and in-class practice for the students begins. 
"We try to put everything together, and then you've got to really look at: 'okay, if one group is playing on the stage, the next group can't be right in front of it.' By early November, we've got it pretty well figured out… one of the big challenges is when the concert's going on, people not performing are in a room, so they need to know when to leave that homeroom in order to be on stage to remain seamless."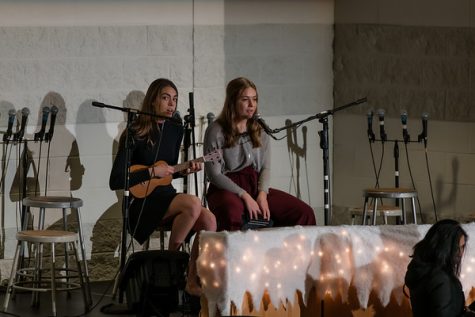 However, with the concert being virtual this year, many changes have been made to the traditional routine. There is no longer stress around moving on the stage. Instead, the focus has been on compiling the individual recordings students will produce. Daniel Shin, a senior in the highest level Orchestra class Chamber Strings, has been participating in the concert for all four of his years at Neuqua. While he was upset knowing that his final Crystal Concert had to be conducted virtually, he was glad that the Fine Arts Department staff still planned to hold a meaningful show. 
"[The groups are currently using] a program called Soundtrap, which allows a group of people to put individual recordings together and make it into one coherent piece of music. Since we're not able to play simultaneously over Zoom (there is just too much latency for it to be effective), Soundtrap has been a way for us to emulate a performance of a single piece. I enjoy using it a lot."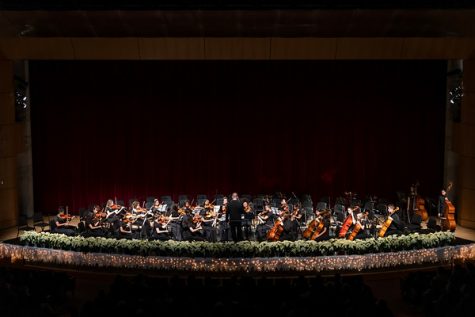 Even though it can be less stressful to record at home, Shin misses "the rehearsals that would take place in order to organize the whole show… Seeing people in the audience in sheer awe from one performance and then all of a sudden having to turn their heads to the other side of the auditorium always makes [him] laugh a little."
Bhavi Barnwal, a three-year Varsity Singer and Chamber Singer, recalled a similar experience at last year's concert when the combined choir performed a unique and unconventional piece using the sounds of water.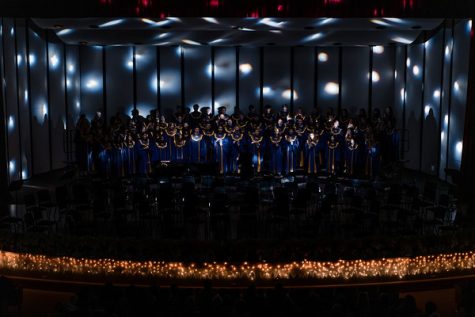 Typically, the audience "physically [has] to look for where the next performance is—the seating in the back, a pocket in the front corner on the right, or in the alley right next to you… Crystal Concert this year will take form in a compilation of pictures with a song that has been digitally edited, which prevents the audience from [feeling this excitement]."
She has found it discouraging for her not to collaborate with her peers for the performance. "I miss the feeling I would get when our whole choir would finally accomplish a goal together, such as singing strongly and then suddenly quieting down, and make the song sound very artistic." 
A two-year performer for the Percussion Ensemble, Kavin Karthi also described the conflicts of being able to work with the rest of the group while practicing. 
"Learning how to play in sync, even though you're not playing with other people, is definitely difficult… It's a lot of play-along tracks, and that's mainly how we've been balancing the timing."
He anticipates seeing people's reactions to the effort the groups have put into their work. "I hope people enjoy it, that's the main thing. I hope a lot of people watch it; it's really enjoyable. [Crystal Concert] is generally packed, so I hope it's the same online."
The mix of chaos and beauty behind Crystal Concert has been missed dearly by many of Neuqua's young musicians. Working behind the scenes of it all has been Luke Bacani, a member of Wind Ensemble, multiple music groups and backstage crew. Bacani is interested in pursuing music in the future, and Crystal has been one of his dearest experiences throughout his time at Neuqua.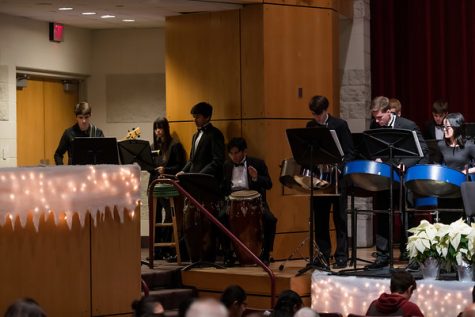 "I just hope that people understand all the work that we've been going through and see how much preparation has gone into this, even though it's not this big, grandiose performance with everyone in it, you know? I really feel like the whole music department has put a lot of effort in to make this feel like a natural Crystal Concert, even though we're in this virtual setting, so I just hope that the audience sees the work that we put into this. I think it's important to recognize that everyone is kind of involved in this thing, and it's not every day that we have these virtual concerts."
Video recordings of the 2020 Crystal Concert will be released at 7 p.m. nightly on Neuqua Music's website during the week of Dec. 13, 2020 to Dec. 19, 2020. From the Fine Arts Department and from The Echo, we hope you enjoy Warm Music Wishes for Cold Winter Nights.
Leave a Comment
Your donation will support the student journalists of Neuqua Valley High School. Your contribution will allow us to print our next news magazine! It will also help us purchase equipment and cover our annual website hosting costs.
About the Contributor
Aarti Gupta, Editor-in-Chief
Aarti is a senior and a second year member of The Echo. While she's not editing, she can be found watching yet another sitcom, updating her Goodreads or...