"I Scream, You Scream, We all Scream for Ice Cream": Celebrating National Sundae Day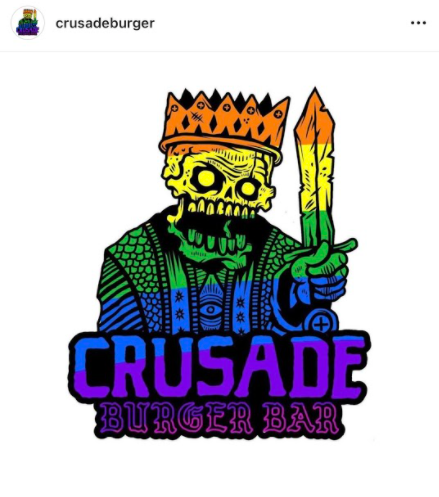 When you hear the word milkshake, you think of an ice cream and milk combination. When you hear the word blizzard, you think of a blended combination of ice cream and toppings. When you hear freakshake, your mind immediately goes blank. A freakshake is a milkshake topped with a massive amount of toppings and sauces. Luckily for Illinoisans, Crusade Burger Bar has a wide selection of freakshakes that keep you wanting more and more.
      Crusade Burger Bar, located in Yorkville, Illinois, prides themselves on their lack of freezers or microwaves since all of their food is fresh and made the day of. Founded by Executive Chef Anthony Burgess, the goal of the restaurant is to provide customers with extravagant portions and out-of-the-box creations. The menu consists of burgers, sides, cocktails and of course, freakshakes. Crusade Burger Bar is also noted for its flexible menu items. They produce a new burger and freakshake option weekly- sometimes even gracing fans with two or three weekly burgers and freakshakes. Each weekly item is posted on their Instagram account @crusadeburger, and their daily menu can be found here.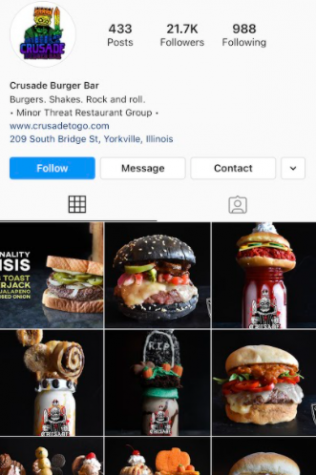 In honor of National Sundae Day, which is occurring today, November 11th, I figured that I had to go and try a freakshake. It isn't your typical sundae, but I'm sure once you try one of their freakshakes you won't be complaining. For the week of Nov. 10th-Nov. 15th, Crusade Burger Bar released the Don't Call Me Peanut, a "Reese's milkshake rimmed with Reese's pieces topped with a peanut butter drizzled brownie, peanut butter cream frosted chocolate cupcake, Reese's cookie ice cream sandwich, Reese's Cup and Nutty Buddy Bars."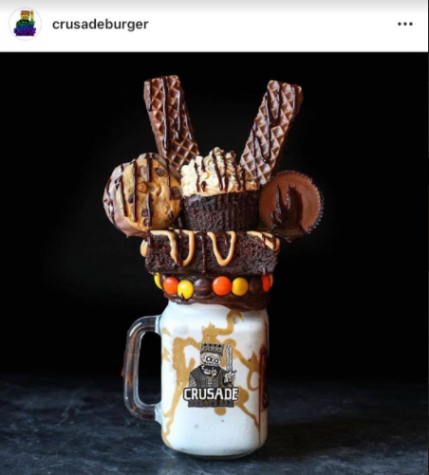 Their daily freakshake menu, no matter the week, consists of three items. They are the:
Ol' 55, a "double chocolate chip milkshake topped with chocolate cake, whipped cream, star crunch cookie, and chocolate cake pop"
Midnight Lullaby, a "a chocolate and cookie dough milkshake topped with a chocolate chip cookie ice cream sandwich, fudge round, chocolate chip cookie dough and oreos"
Little Trip To Heaven, a "a white chocolate and raspberry milkshake topped with whipped cream, a brownie, chocolate ice cream, double chocolate cookie, mini chocolate cupcakes and fresh raspberry"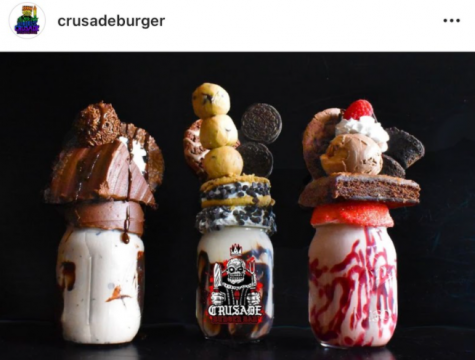 I decided to try the Midnight Lullaby and was not disappointed. It was incredibly chocolaty and the cookie dough flavor was definitely shining through! Plus, their convenient option to carry out the shake was amazing! The extra toppings for the Midnight Lullaby (which included an ice cream sandwich, three cookie dough balls, two oreos and a fudge round) were packed neatly in plastic containers, which proved to be very efficient. If you want the option of dining in, Crusade offers a safe socially distanced set up and requires masks upon entry as well as a temperature check for those entering!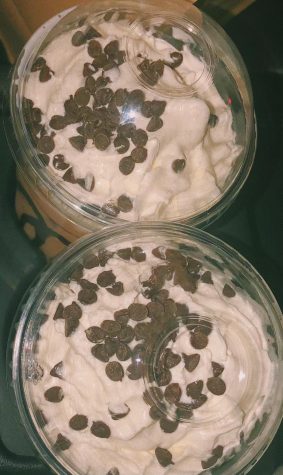 National Sundae Day was  a success, and I am already counting down the days until I can get my hands on another shake. Trust me when I tell you, the freakshakes are worth it, but please be aware of the amount of food that you can consume because the portions are monstrous! If you are reading this Adam Richman, I'm telling you, come out and film a reunion episode of "Man vs. Food" because I will be there cheering you on… And stealing your free freakshake if you win!