Recent reports against ICE have left many calling for an investigation
A whistleblower complaint filed last week with the Office of the Inspector General for the Department of Homeland Security has caused ICE to receive widespread criticism. The allegation is just one of many that have been released in the past few months.
July 2020
As a result of COVID-19 concerns, many children were released to sponsors from ICE detention centers. Parents were forced to make a decision: keep their children with them or keep them safe from the virus.
ICE was criticized by many in the public for forcing parents and elderly to stay at the centers, which were labeled as hotspots for the virus. Between October 2019 and September 2020, there have been 18 reported deaths in detention, which is the highest number the agency has seen since 2006. Of these, four deaths have been directly caused by the virus, whereas another person committed suicide in fear of contracting the virus while detained.
August 2020
A woman from a detention center in El Paso reported that she and others at the facility were sexually assaulted. She was deported soon after, in early September, before there was a public conclusion to the case. Statistics from 2018 showed that there were 374 formal accusations of sexual assault at detention centers.
September 2020
On Sep. 15, 2020, a whistleblower came forward to expose the mass hysterectomies occurring at the Irwin County Detention Center. She worked as a nurse at the facility and stated that many women did not know what the procedure was or why they were receiving it. Legislators have been requesting an investigation into the claims. Although no new information has been released, Speaker of the House Nancy Pelosi made a statement requesting the DHS Inspector General to look into the situation.
"If true," Pelosi said, "the appalling conditions described in the whistleblower complaint – including allegations of mass hysterectomies being performed on vulnerable immigrant women – are a staggering abuse of human rights…The DHS Inspector General must immediately investigate the allegations detailed in this complaint. Congress and the American people need to know why and under what conditions so many women, reportedly without their informed consent, were pushed to undergo this extremely invasive and life-altering procedure."
While ICE has stated that they do not tolerate such abusive behavior, people are calling upon the Inspector General's office to see if ICE is treating the detainees humanely. It remains unclear what happens behind the walls of detention centers, and verification of the whistleblower's accusation has still not been received.
About the Contributor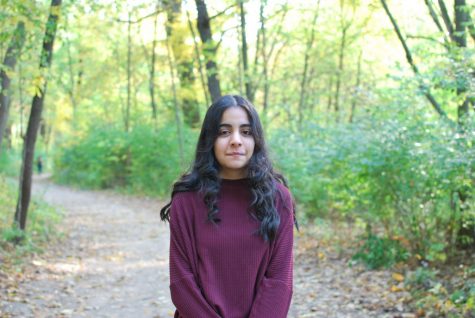 Aarti Gupta, Staff Writer
Aarti is a junior and a first year member of The Echo. She enjoys watching sitcoms, listening to Big Time Rush, and forcing her best friend to listen to...