Biden accused of sexual assault
tw: discussion and description of sexual assault
The allegation: 
In March of 2020, Tara Reade, a former staffer for Joe Biden accused him, the presumptive Democratic nominee for President, of sexual assault, claiming he pushed her up against a wall and used his fingers to penetrate her when she worked for him in 1993. Reade also claims she filed a complaint at the time with his office, but it didn't go anywhere, and her responsibilities at the office were then decreased.
The evidence: 
Reade's claims have been backed up by people who knew her at the time and say she spoke to them at the time about her experiences. 
Collin Moulton, Reade's brother, has spoken to the New York Times, confirming that Reade told him about being inappropriately touched by Biden at the time it allegedly happened. 
Lorraine Sanchez, who worked with Reade, recalls being told in the mid-1990s by Reade that she had been "harassed" by a boss in D.C. Lynda LaCasse, Reade's neighbor when she was living in California from 1994-1996, said that she had an emotional conversation with the other woman about the subject. LaCasse said that she and Reade had been discussing "custody and violence," according to an interview with NPR, when the assault came up. LaCasse recalled how Reade described the assault, saying, "I do remember her telling me that Joe Biden had put her up against a wall and had put his hands up her skirt and had put his fingers inside her."
Two other friends of Reade, who have opted to remain anonymous, spoke to press sources about what Reade told them, sharing similar stories. 
Since news sources have begun investigating, a 1993 clip from the Larry King show has emerged and been linked to the case. The call features an anonymous female caller, who asks what a staffer who didn't want to go public should do if they had an issue with a politician and felt they weren't able to get through with their complaints. Reade has said the voice in question is that of her late mother. The woman does specifically mention Washington in the clip and gives her own location as San Luis Obispo, California, where Reade's mother was confirmed by public record to live at the time. 
A court document dated to 1996 also says that Reade told Theodore Dronen, her then-husband, about "a problem she was having at work regarding sexual harassment, in U.S. Senator Joe Biden's office."
 Although Biden has never before been accused of assault, he has been accused by seven other women and Reade herself of inappropriately touching their neck and shoulders prior to the assault allegations. 
The counter: 
Biden has publicly denied the allegation. The other staffers to whom Reade supposedly issued her complaint or spoke to when the assault allegedly happened, Marianne Baker, Dennis Toner and Ted Kaufmann, have denied knowing anything about the accusation or a complaint.  Others who worked for Biden at the time suggest that the office had a better environment for women to work in than was the norm at the time. 
The controversy: 
Some have suggested that Reade's allegations seem opportunistic in the wake of his presidential campaign, suggesting she should have come forward sooner. Others have stated victims should be able to come forward when they are comfortable and suggest that the #MeToo movement may have made it easier for her to come forward after being dismissed before. 
Those supporting Biden, including those supposedly involved, have been accused of having political motives as the 2020 election approaches and the Democratic party works to unite and field a candidate against President Donald Trump. Others suggest Biden is in the right. 
What it could mean: 
The accusations have divided both the Democratic Party and news sources. There are people and reporters on both sides of the aisle who believe Reade and people and reporters on both sides of the aisle who believe Biden. Many have deemed Reade's claims, "credible," while others say they "trust Biden."
Many Republicans have used the allegations to support their political arguments against Democrats and have accused some Democrats of hypocrisy. They view the support for Biden in the wake of the allegations as proof of partisan loyalty over morals both now and in other situations involving sexual assault, such as  Brett Kavanuagh's nomination to the U.S. Supreme Court. 
The Democratic Party is currently divided. Many mainstream Democrats have chosen to support Biden for a variety of reasons, while others are calling for Biden to stop campaigning and for others to restart their campaigns. 
Although the primaries are not yet over, Biden is the presumptive nominee, and top members of the party don't seem likely to try to change that as a result of the allegations.Some are still hoping to change that, but it may not happen.  
If Biden is the nominee, many Democrats will be put in a difficult position. Many have strictly and vocally opposed sexual assault and supported the #MeToo movement. They will be asked to vote for Biden because the Democratic Party has emphasized the importance of this election and in removing Trump from office. The party is attempting to present a united front against the Republican incumbent. Voters of all demographics may be looking at an election between a man accused of sexual assaults and a man accused of sexual assault. 
Some have suggested that a Biden presidency could be a blow to the progress gained for sexual assault victims. Some also believe that it is the women in the Democratic party who will be hit most by accusations of hypocrisy if they support Biden but would be accused of splitting the vote and giving the election to Trump if they don't. 
About the Writer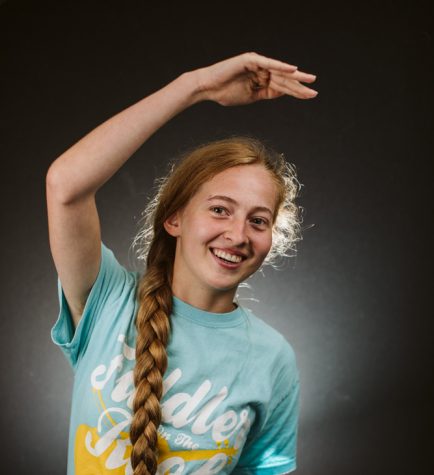 Abigail McArthur-Self, Editor-in-Chief
Abby is a senior at Neuqua Valley and a third year member of The Echo. They are a member of both marching and pep band, GSA, the Youth and Government club,...