Field of Identity
Summer Moore , Assistant Editor in Chief/Business Manager
April 20, 2020
776 BC was the first time sports were introduced into the world, and ever since, we have used them as a part of our identity. Sports are an outlet of entertainment — whether being played or just watched, they bring something to the table for almost everyone. They help connect us while we cheer on our favorite teams and have friendly rivals to talk about over dinner with friends. They are a timeless part of human identity.
Although sports affect society as a whole, they also affect our very own wildcats' identities, such as Taylor O'Malley, a senior, who has played volleyball since 4th grade. She plays as an outside hitter on the Neuqua Valley varsity volleyball team. She explains that, "My father inspired me to play actually. My whole family was a part of this sport but his amazing skill and love for the game made me want to start it." In Taylor's free time, she is usually in the gym since she has such a passion and love for the game.
Volleyball has , "turned [O'Malley] into a very organized, well time managed, and a hard working person. It has shown me the importance of relationships and teammates which I carry with me through everything." O'Malley explains that, "I believe my sole identifying factor is volleyball because it is where I spend most of my time outside of school and truly what I think about all of the time. It also has helped shape me into who I am today so I would say it is an identifier for me."
Patrick Hoffman is a four-season athlete at Neuqua Valley High School. He has played football since eighth grade, basketball since kindergarten, baseball since freshman year and track and field since sophomore year. Hoffman explains that he started because, "my dad, other people around me, like my friends who played sports. That made me want to try them and be involved and make new friends and continue to be competitive." Patrick stays inspired to keep up with so many sports because of his "competitive mindset" and the chance to meet new people.
However, the sport he identifies with the most would be football; in fact, this is what Hoffman will be committed to for his next four years at Northern Illinois University. Hoffman feels that, "sports are a big part of my life, but there are other things that identify me as a person, but sports is just one of those large things that identify me since I am involved with so many." Sports has had such a big impact on Patrick's life that he has chosen to major in Sports Management so that he could "be a part of professional sports franchises and be in the front office and work around that."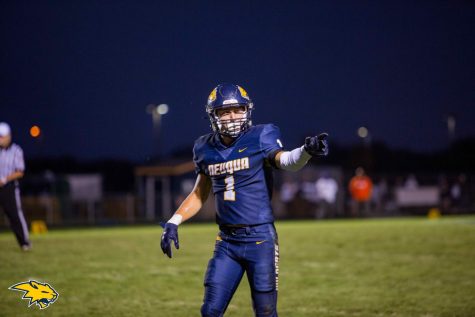 For some athletes, sports play a big part in their lives, however they do not identify with their sport. Skylar Getty, is a soccer player, however, she takes her talents to the Naperville Park District, where she plays for a co-ed team. Skylar has been playing soccer since she was three years old and explains that, "my dad kind of forced me to play it because he used to play it all of his life, so basically the second I could walk he gave me a ball and started putting me to practice with him."
Getty expresses that soccer has affected her identity by being "a big part of my life because I have played it for so long and has changed and affected the way I am as an athlete and a person, because I am more competitive and a lot more focused on end goals", but she explains, "I would solely identify as a daughter or sister because helping my mom, something I have done for most of my life, is a larger part of my life than any sport could have been and a bigger part to me since family is such an important thing to me." Skylar hopes to continue her passion for playing soccer in college for a club team and follow her father's footsteps in playing soccer after college for a recreational team.
Sports are a huge part of the society we live in, whether you hate them, love them, play them or just watch them, they are a part of everyone's life in one way or another. They are used to not only connect to one another but also to help add to our identity.