A cry for help or a cautious warning? Doomsday clocks recent time hits 100 seconds till midnight
The doomsday clock is the closest it's ever been to midnight (or alluding to mass destruction of the world) since its creation in 1947 during the Cold War. The Bulletin of The Atomic Scientists, derived from 13 Nobel laureates, which is a person who is honored with an award for outstanding creative or intellectual achievement, dictates the time of which the clock is set at. 
Former Irish President, Mary Robinson, says the clock is an "indicator of the vulnerability of our existence. It's a striking metaphor for the precarious state of the world, but most frighteningly, it's a metaphor backed by rigorous scientific scrutiny." In layman's terms, the clock signifies the end of all humanity caused by world factors that are concerning at the present moment.
The president and CEO of the Bulletin of The Atomic Scientist, Rachel Bronson, announced that it is officially "100 seconds (one minute forty seconds) to midnight" in the annual unveiling of the doomsday clock. 
In the 2017 unveiling of the clock, the main proponents of the time being closer to midnight were climate change, cyber security, nuclear weapons and the presidential election results. The clock was set at 2.5 minutes till midnight. In 2018 the clock went down to two minutes. Bronson also mentions that the "growing disregard of scientific expertise" is one of two major issues that has its increasing effects. 
A major concern for mankind, through the 2020 lense, is the on-going issues pertaining to climate change and the existential dangers of nuclear war. Although there is more action towards relieving global climate change, governmental responses still fall short compared to the damage being done. 
The Bulletin of the Atomic Scientists website shows the growing fear that a nuclear war might be in our midst in the near future. National leaders around the war have ended or undermined several major arms control treaties and negotiations during previous years, making the "environment conducive to a renewed nuclear arms race, to the proliferation of nuclear weapons, and to lowered barriers to nuclear war." These concerns are not set in stone, but are simply sending the human race as a whole a warning–before it's too late. 
As Jerry Brown puts it: "Wake up America, wake up the world — it is 100 [seconds] before doomsday!"
About the Writer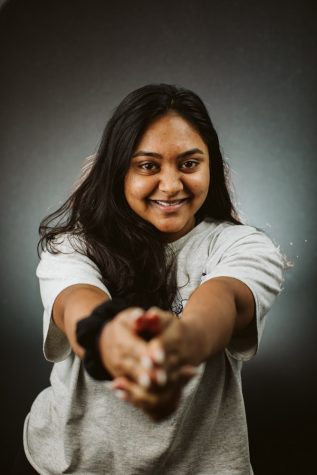 Anika Haridas, Editor
This is Anika Haridas and she is a senior at Neuqua Valley High school. This is Anika's third year in the Echo, joining in her sophomore year. She actively...