Anthony Tegtmeyer wins award for PLTW Engineering Teacher of the Year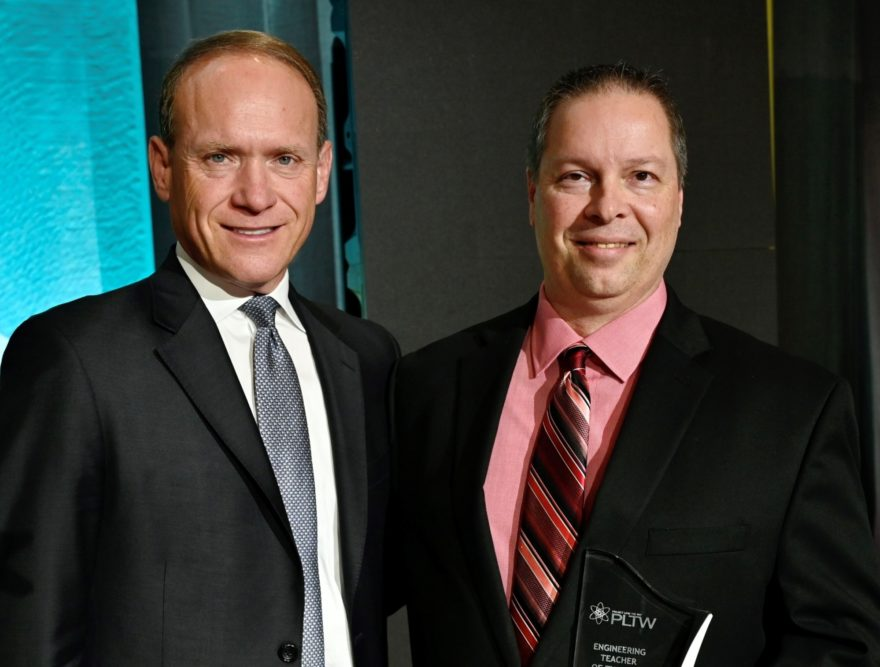 "If you work hard enough, you can accomplish many things." This is the classroom philosophy of Anthony Tegtmeyer, Technology & Engineering (TEE) Teacher, Project Lead the Way (PLTW) Master Teacher, Girls in STEM Advisor, Team America Rocketry Challenge (TARC) Advisor and Science Olympiad Coach here at Neuqua Valley. Though he has clearly involved himself in many ways as an advisor for various activities, he has also proven himself as an exceptional teacher within the classroom. He was recently recognized as the PLTW Engineering Teacher of the Year at PLTW Summit Indianapolis. This prestigious award is only presented to one PLTW teacher in the entire country, so Tegtmeyer finds it to be a great honor that he was chosen. Based on merit, the award recognizes those teachers who closely adhere to the PLTW mission, as listed on their website, which is "exceptional commitment to students; school leadership; and evidence of meaningful involvement in PLTW curriculum, assessment, and professional development."
Tegtmeyer earned his Bachelor's Degree in Engineering and started working on his master's in Aerospace Engineering. He explained how the president, at the time, gave his job as well as his coworkers' jobs to the Russians. This change of plans forced him to delve more into his engineering degree and start a business alongside it. He spent multiple years at this job designing, manufacturing and marketing his own product. Eventually, his wife suggested this crazy idea that he become a teacher. Laughing at the idea originally, Tegtmeyer gave in to the possibilities and worked as a sub. He described this experience by saying "If you like the part of teaching where students abuse you, then you will be ready for anything." This was the beginning of his transition into becoming a teacher. A position opened at Neuqua Valley in the brand-new PLTW department which would combine engineering and technology, two subjects he was very familiar with. He has been working here since that decision to accept the job. 
With more experience on the job today, he describes that the best part of teaching is "seeing a student struggle but research and try, then getting that sense of accomplishment after they see their success." Tegtmeyer recalls multiple situations throughout his career where students have completely turned things around and surprised him. This part of teaching taught him a lesson that he still truly values today: to never judge a student. At the end of the day, he loves his job and all the fascinating experiences that it has given him over the years. Today, Tegtmeyer remains extremely grateful to his wife that she originally proposed the idea to him.
One goal Tegtmeyer has for the future is to see more girls involved in the different STEM careers. Working on a new class idea, Tegtmeyer hopes to bring in a new group of interest and innovation to the table as the careers for women in these fields continue to expand. Though the class idea is still a work-in-progress, he is very excited to share what he has been working on with these new students.
For more information on the PLTW program and the different classes it offers, visit their website pltw.org.
About the Writer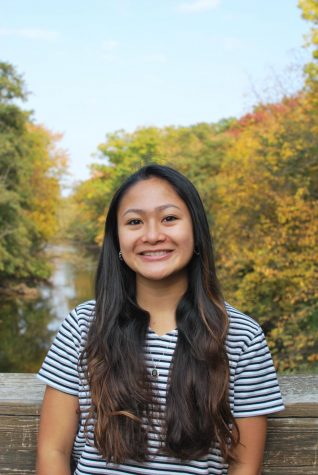 Dana Balmas, Editor-in-Chief
Dana is a senior and third year member of The Echo. She is involved with Aspiring Medical Professionals Club, Spanish Honor Society, Rho Kappa, P.E. Leaders,...