The best of Tri-M music honors society's annual benefit recital
The Tri-M(Modern Music Masters) music honors society recently held their annual benefit recital on Monday, Dec. 9 in the Neuqua Valley freshman center. The goal of the annual benefit is to raise money for organizations Actions in Africa and Feed My Starving Children, where there is an optional five dollar entrance fee for those who want to donate to the cause. 
Action in Africa is a non-profit organization that is set in place to promote educational and creative outlets for underprivileged families in Nakuwadde, Africa. A portion of the proceeds will be given to Action in Africa in order to help with the community center's music program. This includes supplying the students with music and teaching the students, as well. Feed My Starving Children is a non-profit organization that coordinates the packaging and distribution of food to those in developing nations. The organization has reached out to over 70 countries and has various locations in the area where anyone in the community can volunteer their time. 
The Tri-M recital benefit included a wide variety of musical talents that were all equally distributed among the students who performed. Here are a few performances that were especially memorable: 
The evening began with a singing performance by Nivedita Pai, Eirene Stavropoulos, Bhavya Mahesh and Saaniya Rupani. The choral group performed the Pentatonix arrangement of "White Winter Hymnal" by Fleet Foxes. Their vocals were comparable to silk and were beautifully mixed together to create a melodic rendition of the Pentatonix' arrangement of the Christmas piece. Stavropoulos also sang an incredible solo, "Will There Really Be a Morning" composed by Richard Hunley. The piece was a detailed homage to Stavropoulos' soprano range and high vocals. 
Caroline Reynolds' flute solo, "Nocturne et Allegro Scherzando," composed by Philippe Gaubert, was a breathtaking performance. The flute is such an elegant instrument, and Reynolds executed the piece with gracefulness and concise notes. The mood changed multiple times throughout the piece, ranging from uplifting to solemn and it came together to create peaceful music. 
One of my favorite performances from the entire event was a rendition of  "Por Una Cabeza" composed by Carlos Gardel. Violinists Brandon Do, Kate Grawe and Dharshini Sriramlatha all blended exquisitely to create a unified harmony of the first and second violin parts. The quintet group of strings was a combination of insane talent and lavish grace that blended to create a brilliant performance. 
Cassie Horn performed "The Greatest Showman Medley" a well-put-together composition by Benj Pasek and Justin Paul and arranged by the talented violinist Lindsey Stirling. I was humming along to the tune the entire time (in my head); I couldn't help myself. The three most popular songs in the musical, "Rewrite the Stars" sung by Zac Efron and Zendaya, "Never Enough" sung by Loren Allred and "A million Dreams" sung by Ziv Zaifman and Hugh Jackman all blended perfectly to create a rich interpretation of the entirety of the film.
Ending the evening strong, Senior cello musician Eric Yang played "Song Without Words," a piece by romantic composer Felix Mendelssohn. Yang played his instrument with such passion, and the playing of his cello opened the audience to an emotionally vulnerable performance. Like many other performances, Yang's performance was accompanied on the piano by Haeyoung Han, an accompanist at Young Naperville Singers. 
The musical performances were not only well prepared and marvelously crafted, but it all came together to fuel an incredible cause: giving back. It was a pleasure experiencing such wonderful music while also knowing it is helping the community.
About the Writer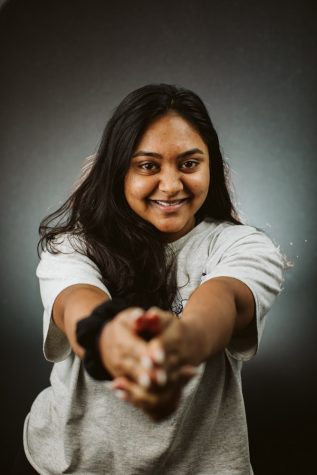 Anika Haridas, Editor
This is Anika Haridas and she is a senior at Neuqua Valley High school. This is Anika's third year in the Echo, joining in her sophomore year. She actively...