Playing for something larger than yourself
On Nov. 6, Vijay Gupta, a professional violinist,  returned to Neuqua Valley to speak with the music department and perform two original pieces composed by Reena Esmail. This is Gupta's second time at Neuqua in the past two years, and he had a very important message to share with the students who were in attendance.
Not only is Gupta a renowned violinist, but as a public speaker, he has travelled around the United States bringing a message of expression and outreach with him. He was formerly a member of the Los Angeles Philharmonic Orchestra as a violinist, at age 19, and remained a member for more than ten years before leaving. Gupta ultimately decided to pursue more philanthropic work. He founded a nonprofit organization, Street Symphony, which brings performances to people who are homeless or incarcerated. 
For his return to Neuqua Valley, Gupta wanted to spread a message that encouraged students to embrace their identity. In his hour long presentation, Gupta hoped his words would resonate with many young artists. This time, he was accompanied by composer and a Kennedy Center Citizen artist, Reena Esmail. Both musicians echoed similar messages about finding your way in the world. Esmail and Gupta toggled between playing music and explaining how it has impacted their lives. There were two original pieces performed in their presentation: one was exclusively played by Gupta with his violin, and the other was a duet with Gupta playing his violin and Esmail speaking heartfelt lyrics. Along with that, they allowed students to engage by asking them questions. While they were talking about their upbringings and ultimate decision to pursue music, a student asked them what advice they would give their high school self. Gupta gave a thorough response and ended with something he felt was very important and needed to be remembered by many young people, "you are enough and who you are right now has great value." 
These two inspirational individuals were hosted by the Naperville non profit organization ARTSpeaks. Once students were dismissed from the Neuqua Auditorium, Gupta, Esmail and the Neuqua Valley Symphonic Strings rehearsed for their performance later that evening. The concert entitled "Hear Your Voice", with the original piece "Concerto for You" composed by Esmail, was meant to explore how people are connected. The performance was that night at Wentz Hall and the group of musicians worked and performed together in perfect harmony.
About the Writer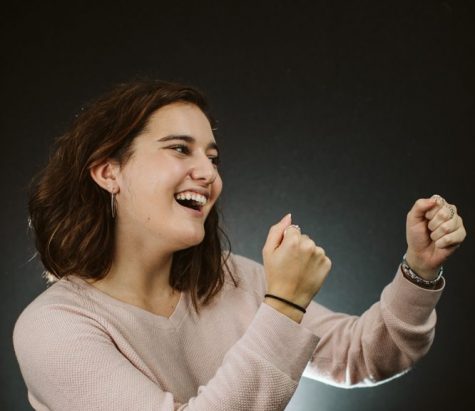 Meghan Gaither, Staff Writer
Meghan is a senior at Neuqua and she is excited for her first year on staff! She enjoys performing in various Neuqua Theater productions and singing in...