Neuqua's Wee Wildcat preschool lets high schoolers and preschoolers grow together
Hang on for a minute...we're trying to find some more stories you might like.
The Wee Wildcat Preschool has been a part of Neuqua Valley almost as long as the high school has existed. It offers the preschool students a state-certified preschool education while providing the high school-aged teachers with hands-on experience. 
The preschoolers learn everything that would be covered in any other preschool — such as math, alphabet practice, gross and fine motor skills, science and social studies. The Wee Wildcat preschool is open to 3 and 4-year-olds within the Neuqua boundaries, as well as to the children of staff members. Tichelbaut says the preschool typically tries to keep the number of students small; the max they've had is 17. They have a nearly 1-1 student-teacher ratio, which she believes is important. 
The preschool runs three days a week for two periods, with each period staffed by high school students. Kathy Tichelbaut, a Neuqua family and consumer science teacher who works the preschool, says that the program is almost entirely student-run. The high school students in the class, called "high school teachers" plan, prepare and lead the lessons in the classroom. 
In order to work in the preschool, high school students first have to pass Child Development and receive a teacher recommendation. Tichelbaut says the process works essentially the same way as teacher recommendations for other higher-level courses like honors and AP courses. 
Unlike in other advanced courses, however, the success of the high school students in the Wee Wildcat preschool is important for the entire program.  "The preschoolers aren't getting another preschool education," Tichelbaut says. How the high school students do and the work they are willing to put in affects the education of their students, so the school works to maintain high standards for them. Tichelbaut believes it's a good learning experience for the high school students involved. She says it's a useful class both for "students who want to teach, even at a higher level," and for students who want to work with younger kids; it's "not just for people who want to be preschool teachers." She believes it's important to see what it's like to "work with kids on a daily basis," before going into a career with them. 
High school students can participate in the preschool for up to four semesters or two years. Each semester is a "level" and teachers at
different levels have slightly different jobs. Tichelbaut says that "level ones and twos," typically focus more on making lessons, and the more experienced teachers are more likely to work with specific children one on one. When they don't have the preschoolers in class, the high school teachers are planning lessons and learning from their peers. 
Two high school teachers in the class, Lucia Scola and Gabrielle Zavala explained that the class can be difficult, but Zavala says that "seeing the children's smiling faces makes it all worth it." 
About the Writer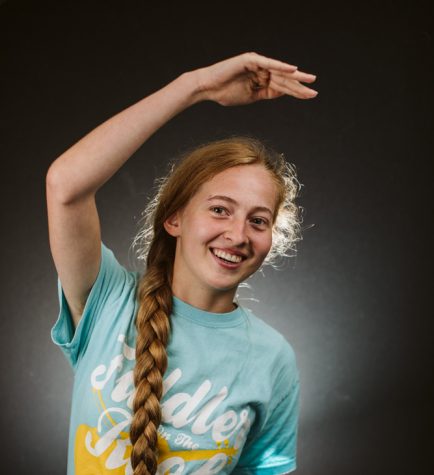 Abigail McArthur-Self, Editor-in-Chief
Abby is a senior at Neuqua Valley and a third year member of The Echo. They are a member of both marching and pep band, GSA, the Youth and Government club,...