Children's Show: Snow White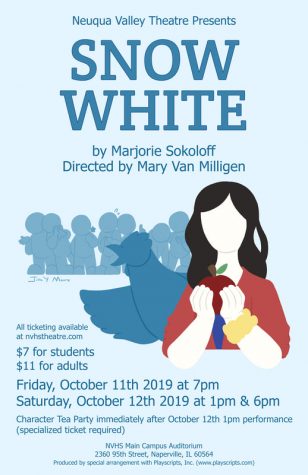 This year's Children Show production, an annual show at Neuqua, is Snow White. It's headed by Mary Van Milligen, an English teacher and veteran of Neuqua's Theatre Department. Though a classic in the children's entertainment industry, this version of Snow White is actually  different from what one person might usually expect. According to Van Milligen, "it's not like the Disney version" of this classic tale.
The story has been revamped by Van Milligen, with it taking place in a semi-modern time period. The show will utilize lots of "late 90's, early 2000's music" and feature "Snow White look[ing] kinda hipsterish." The show will also get the audience involved as Van Milligen likes to "make it really interactive" and "break that [4th] wall." She compared the level of interaction to the popular children's TV show, Blue's Clues. 
Though the show has been tailored to children, Van Milligen says that an older audience as well as a high school one can enjoy the show. In the process of modernizing the show, Van Milligen has gone out of her way to "include a lot of pop culture jokes" that involve both older and younger communities. A few of these jokes are in the forms of references and dances from TikTok (a popular video app)and a Grey's Anatomy joke. Another change to peak the interest of an older crowd  is the new feminist take on the classic story. In this version, Snow White is portrayed from the feminist lens, with her shining moment occuring later in the play
In addition to the shows at 7pm on October 11th and 1 and 6pm on October 12th, the cast will host a tea party at 2pm on October 12th in the Black Box. This requires a special ticket, and all children must have a parent who has bought another ticket present. The tea party is an idea that Van Milligen got from Waubonsie, who held a tea party for their production of Alice In Wonderland last year. The tea party will consist of a choreographed dance by the whole cast, a scripted 15 minute performance, time for the kids to talk to the characters, get autographs and take pictures with them. The tea party will also have snacks, drinks and crafts. In total, 100 tickets are available for the tea party.
Children and student (with a valid student ID) tickets for the show costs $7, and adult tickets cost $11. Tea party tickets cost $10 ($11.43 with service fee) and kids under 2 are free. If you're interested in purchasing tickets for the show, you can follow the link here.