"Lover" by Taylor Swift – Album Review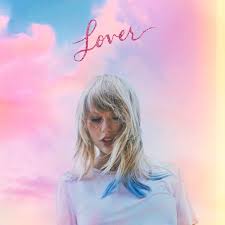 Taylor Swift has told us all, through her numerous albums, to Speak Out, to be Fearless, to be a bold Red in a colorless world, to celebrate our lives, and to not let our Reputation decide who we want to be. Taylor Swift comes to us with her new album "Lover," singing to us about her lover.
Swift's new album, "Lover" came out Aug. 23. It is the artist's seventh album, and the first album she herself owns, after her old label sold all her previous music to Scooter Braun. It's a new era, starkly different from "Reputation." "Lover" is sprinkled with pastels and hearts. The change is marked by her butterfly mural in Nashville and her single "ME!," which celebrates her relationship with herself. The music video for "ME!" also features Brendon Urie, the lead singer for Panic! At The Disco. It opens with a pink snake, which bursts into a kaleidoscope of butterflies seconds later, symbolizing her rebirth.
The entire album has 18 tracks, each one a different step in healing or a declaration of her love. She started teasing some of the lyrics to her songs as captions on her Instagram posts weeks before the album actually came out. The deluxe version of this album also includes several of her diary entries from all throughout her life, many showing the rough drafts of the lyrics to her older songs.
With lyrics like "I'd be a fearless leader, I'd be an alpha type,, "I snuck into the garden gate, every night that summer just to seal my fate," "American glory, faded before me" or the hundreds of others, Swift pours her soul out. While "ME!" and "You Need To Calm Down" may have seemed like more sugary pop, she doesn't disappoint. The rest of the songs are each sorrowful, happy or political in their own ways. Songs like "The Man," show Swift finally taking a political stance, something she has restrained from doing before. "Soon You'll Get Better" is an incredibly painful song to listen to, especially since it refers to her mother suffering a relapse in cancer, while "Paper Rings" is the most uplifting song in the whole album, with Swift singing at the top of her lungs that she would marry her lover with even paper rings.
To me, the album was the best she has ever written. The album seemed to have a wave of sentiment over it. Throughout all 18 tracks, she makes tiny references back to her old albums, symbolizing that she's moved on from her past. And that's never been more touching. Her songs are more grown-up in a way, and the songs come from a place that is more healed than scarred. My personal favorite song was "Miss Americana and the Heartbreak Prince." The song is a metaphor for the political situation of the United States, but it was the high school metaphors that got me. Swift kept referring to herself as a prom queen, or 'America's Sweetheart', who got stilted by someone she trusted, and it does sound like the perfect comparison from what we know of her. 
While "Reputation" showed Swift to be the satirical villain, someone ready to attack at a moment's notice, "Lover" is a retelling of a romanticized American Dream, the life of someone who has been through heartbreak after heartbreak until she found The One. It is one of Taylor Swift's most heartfelt albums till date, and Swift doesn't hold back at all, talking about her love life, addressing her haters and making her stance on LGBT+ rights as clear as she could. 
Call her Miss Americana.