No Rome's new EP "Crying in the Prettiest Places"
No Rome released his second EP, co-produced by Matty Healy & George Daniel of The 1975, titled "Crying in the Prettiest Places" on Friday, May 3. The six-track release features his first single of 2019, "Cashmoney," and follows his debut EP, "RIP Indo Hisashi." The EP begins with a one minute intro titled "5 Ways to Bleach Your Hair," and even within the first few seconds of the song, there is evidence of the indie and alternative vibe that is predominant in No Rome's music.
The track "Stoned in The Valley" appears to be about a protagonist describing their life with a person who's falling out of love with them. The song itself has a late 90s-early 2000s mellow-rock sound which is comparable to his premier single of 2019,  "Cashmoney," a song that explores the topic of fashion. "Cashmoney" followed the release of his debut EP, "RIP Indo Hisashi, in 2018, after being signed to London-based record label Dirty Hit. In an interview with Beats 1, No Rome explains the meaning behind his third track on the EP  "Cashmoney" .Rome says, "I wrote "Cashmoney" when I was 16 and working in a call centre in Manila… I've always written songs about fashion: it's an inspiration and form of expression for me. I just never really knew how to put it in a pop context before."
"Pink" is the 4th track of the EP which was debuted live during his tour with The 1975 in early 2019. He released the song with the EP, along with the music video on May 3, 2019.
No Rome has written a number of songs with Matty Healy with no doubt that there are similarities between the track "Rimbaud, Come and Sit For A While" and songs from the 1975. The overall message of "Rimbaud, Come and Sit For A While" describes a relationship that he feels coming back to life through a late-night conversation on the phone. Because the relationship had previously ended, No Rome describes the feelings of frustration, confusion and reconciliation with his own reality and the way things are in the wake of the conversation.
User Sebastian on albumoftheyear.org said that, although "the music is… moody, catchy, and smooth….the EP is quite substanceless, and it thus only really works as background music." In my personal opinion, I completely agree with the critique given by the viewer. No Rome's EP encapsulates the typical "road-trip" music, but it's not something I typically gravitate to when it comes to music taste. No Rome, amongst all his talents, has created an empire that focuses on a unique and original genre. No Rome's EP "Crying in the Prettiest Places" is out on all musical platforms.
About the Writer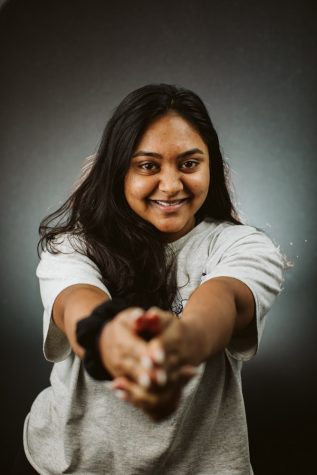 Anika Haridas, Editor
This is Anika Haridas and she is a senior at Neuqua Valley High school. This is Anika's third year in the Echo, joining in her sophomore year. She actively...