Taylor Swift's latest single "ME!"
Hang on for a minute...we're trying to find some more stories you might like.
Taylor Swift's newest single, "ME!" featuring Brendon Urie, premiered on April 26, and the Swifties are not having it. The single got from fans and critics alike for its theme of self-love, but along with praise came the inevitable criticism no artist can avoid. Some of her fans found the song to be lackluster because of elements such as music production, the over simplistic lyrics and the unoriginality of melodies, and it definitely didn't reach their expectations after the two-year hiatus between the song's release and Swift's last studio album "Reputation."
Compared to her other hit singles such as "Look What You Made Me Do" from the album Reputation and "Shake It Off" from her "1989" album, "ME!", a single for which the album has yet to be released, the title track does not seem to be gaining the same traffic as her other singles have in previous years.  Vulture revealed in an article that, "it's the first lead single from a Swift album to not instantly hurtle to No. 1 in nine years — basically her entire career as a pop-first artist." The article is referring to Billboard's Hot 100 list, where Swift normally holds a spot at the top but which is currently being dominated by Lil Nas X's "Old Town Road" remix featuring Billy Ray Cyrus.
The overall aesthetic of the song was the complete opposite of Swift's 6th commercial album "Reputation," which showcased a dark and twisted side to the singer that her fans had never witnessed before. A lot of critics were quick to point out the childish nature of her new song, "ME!", because of lyrics such as "Hey, kids spelling is fun" and the overall vibe of the song being upbeat and playful.
Critics on social media speculate that the song is based on Emeli Sande's song "Next To Me" and the 2016  radio hit "Sit Still, Look Pretty" by DAYA. Even famous pop singer Charlie Puth took to social media comparing the songs in a tweet, saying, "new Taylor Swift song reminds me of this" with a photo of the "Next to Me'" single art. Other fans came to Emeli Sande's defense upon the release of Swift's single, saying, "I can't be the only one who picked up Taylor Swift ripping off the chorus of Emeli Sande's song "Next to Me" in her new song." Listening to both Sande's and Swift's songs side by side, it does reveal many aspects that are similar such as the melody of the chorus in both songs, and it's understandable why it was noticed by some of her audience.
In her live performance of "ME!" at the 2019 Billboard Music Awards (May 1st), fans and critics speculated that she took inspiration from Beyonce's use of a drum line as her grand entrance. It has been Beyonce's iconic trademark since the 2016 Super Bowl, and  some people found it disrespectful that Swift didn't give credit because her own was so similar.
Although there were some negative reviews around the song's release, many of her fans have remained excited with the released song and music video, in part because of the easter eggs for TS7, her unreleased album. There are numerous videos that point out and analyze the different easter eggs and teasers for her next studio album. Her fan base gathered a lot of information just from the 3 minute music video from song titles to album art, Taylor Swift's fan base has proven their loyalty time and time again by showing how dedicated they are to all she creates.  Fans are excited to see what is new to come in TS7 in the near future.
About the Writer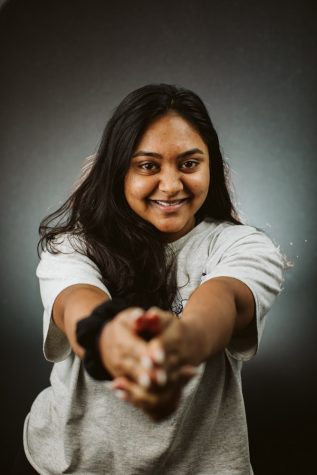 Anika Haridas, Editor
This is Anika Haridas and she is a senior at Neuqua Valley High school. This is Anika's third year in the Echo, joining in her sophomore year. She actively...