Chella Man announced to play Jericho in upcoming DC "Titans" season
Hang on for a minute...we're trying to find some more stories you might like.
Chella Man, a deaf genderqueer artist and activist, has been hired to play the character Jericho in the second season of DC's "Titans," which is currently scheduled to air in the fall of this year.
Joseph Wilson, aka Jericho, is the son of Slade Wilson (Deathstroke) and a mute character. His most notable power in most of his comic and cartoon appearances is his ability to possess other people by making eye contact with them.  Alongside Jericho, season two is scheduled to include Rose Wilson, aka Ravager — Jericho's sister. Man will debut as Jericho when DC Universe, the comic company's streaming service, releases the second season of "Titans," this fall.
DC's "Titans," which first debuted in 2018, currently features heroes like Dick Grayson (Robin), Kory Anders (Starfire), Gar Logan (Beast Boy) and Rachel Roth (Raven). Season one is largely spent bringing the four heroes together to form the Titans as they face villains like the Nuclear Family from DC's comics.
Jericho will be Man's debut acting role. He started his Youtube channel, Chella Man, where he talks about his transition on testosterone, posts his art, and discusses his experience as a minority, in 2017. Man is currently studying virtual reality programming and uses his platform online to both share his own creativity and speak out about his identities.
In 2018, Man signed on as a model with IMG. Man is of Chinese and Jewish descent, and told Teen Vogue in an interview that, "There is an extreme lack of representation for young, Deaf, queer, Jewish, Asian, transgender artists — sorry, that is a mouthful. So, I decided to be my own representation."
Man grew up with progressive hearing loss, which he and his family first noticed around the time he was four years old. In third grade, both Man and his family began to learn American Sign Language (ASL) with the knowledge that Man would eventually be completely deaf. Man made the decision to get cochlear implants (CIs), a medical implant that can allow some deaf people to hear. He currently has implants for both ears, the first of which he got at 14, the second at 16.
Man has been open about sharing experiences both through his own social media and in interviews, explaining some of the reactions he's gotten when people find out he is deaf and how his hearing loss has affected him. Man has been recognized for both his talents and his activism by groups like HearingLikeMe.com, which is described by their website as, "a news and lifestyle website for people whose lives are affected by hearing loss."
Man also began to transition openly in 2017, starting hormone replacement therapy (HRT) and receiving top surgery. He has described himself with both the labels 'genderqueer,' and 'transgender,' and posts videos on his Youtube channel sharing his story. Some of his videos show positive moments, like his first time shirtless on a beach after his top surgery, while others discuss the issues that transgender and genderqueer people can face.
Man expresses himself through his modeling and through the artwork he posts to his social media accounts, such as his Instagram, @chellaman. Many of his designs feature abstract line art of facial features and expressions. Some of his Youtube videos also show him painting or creating artwork along a specific theme or to represent a specific message.  Through his work, Man is hoping to provide the representation he didn't see in the industries he's a part of.
About the Writer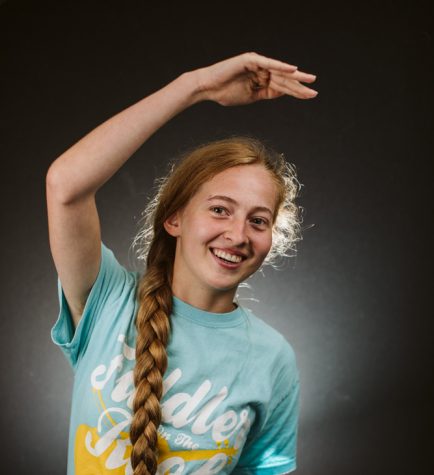 Abigail McArthur-Self, Editor-in-Chief
Abby is a senior at Neuqua Valley and a third year member of The Echo. They are a member of both marching and pep band, GSA, the Youth and Government club,...