Boys Volleyball team loses the majority of their team
Summer Moore, Assistant Editor in Chief/Business Manager
May 9, 2019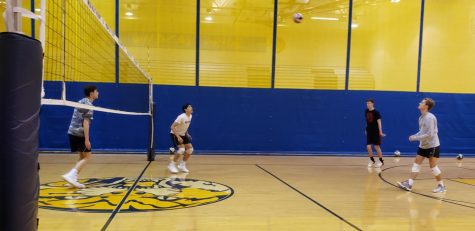 The Neuqua Valley High School boys volleyball team is up for some major changes for next year's season. The team, which is mostly made of seniors, will be losing 12 out of 17 varsity team members.
"Players just come and go and it's just one of those things that happens," explains the coach, Eric Mendoza, who has coached volleyball for 21 years, and thought it was a great compliment to teaching. Mendoza explains that the changes for the next season will include, "a lot of underclassmen starting, which will be interesting, since we typically have always had a senior heavy starting lineup." He explains that the team normally gravitates to having a senior line up, not because they are seniors, but because "that's just what happens."
Gabriel Scharosch, a junior and outside hitter, who has been on varsity for two years, could not agree more that next season will be interesting. He explains the team chemistry this year, saying, "[we] really push each other to get better, especially for the more competitive drills." Scharosch says the next year will be a "much younger team, with four freshman on JV who will get moved up." The coach and players feel that the team will do great. The skills will not differ, just the ages.