Hollywood Romanticizing Killers
Over the course of 2018 and 2019, Hollywood seems to have focused much of its efforts on creating movies that delve into the insanity of killers. Classic horror flicks such as "Silence of the Lambs," "The Shining" and "Saw" have sparked many remakes in modern day, but Hollywood has also recently started to focus upon reality instead of fiction; we're seeing a new fascination in serial killers. In 2018, "My Friend Dahmer" dissected the troubled childhood of notorious serial killer Jeffrey Dahmer, and now in 2019, we are preparing for "Extremely Wicked, Shockingly Evil, and Vile," the story of Ted Bundy. Some critics, however, have a bone to pick with the director.
May 3rd, a new movie feeding the fad on serial killers "Extremely Wicked, Shockingly Evil, and Vile," is being released. The movie is about Ted Bundy, played by Zac Efron, an American serial killer who is believed to have killed over 100 young women. The movie is set recount the story of Ted Bundy's girlfriend/future wife, Carole Ann Boone, played by Lily Collins. Even though there have been a few older movies that have been about Ted Bundy's murder spree, there is considerable backlash preceding the movie's release; is the director of the film romanticizing Ted Bundy and his actions?
Several critics shaming the film have said that the casting of a Hollywood heart throb romanticizes Ted Bundy, a convicted serial murderer, rapist and necrophile. Kevin Fallon, a critic at the Daily Beast, says the film has "a responsibility, to explore the macabre charisma and ensuing fame that erected the tent around the Ted Bundy circus." Fallon also expressed that he was disappointed in the film, saying that "any exploration into how that played into his murder spree, or even any other insight into Bundy and his psyche aside from his narcissistic desire for attention," was lacking. Even celebrities have responded to the movie's casting. "The wink is extremely disturbing, and the romanticization of a serial killer is exactly why these sick [expletive] continue to do things like this to women," Lauren Jauregui, singer and former Fifth Harmony member tweeted. Joe Berlinger, director of "Extremely Wicked, Shockingly Evil, and Vile" denies claims that the film glorifies Ted Bundy or his actions.
The official first trailer of "Extremely Wicked, Shockingly Evil, and Vile" features an attractive Zac Efron charismatically winking at the camera in his courtroom scene, a shot that has horrified those who are critical of the film. However, the scene was meant to showcase Ted Bundy's charm and display to viewers how Bundy lured his victims. Described by his few friends and family members as an extremely intelligent and alluring character, Ted Bundy attracted his victims by using his deceptive charm and his smarts to manipulate them into believing they were safe. "My Friend Dahmer," which also starred a former Disney star, received no criticism for its casting.
"Extremely Wicked, Shockingly Evil, and Vile," uses Zac Efron as a canvas; director Joe Berlinger guides viewers through Bundy's process of capturing his victims by accurately painting him as an attractive, clever and extremely manipulative man. The charm that Zac Efron portrays in the movie is misconstrued by critics as romanticization, but is ultimately just one of Ted Bundy's killer skills.
About the Writer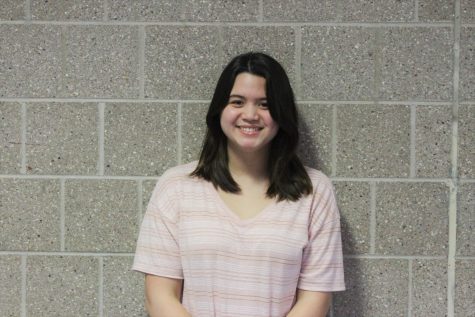 Ella Estopare, Online Editor & Columnist
Ella is a senior at Neuqua Valley and a second year member of The Echo. She is a member of the Chinese Honors Society at Neuqua and the build crew of Neuqua's...