Watch Disney's "Encanto" for winter break
Disney's new animated movie "Encanto" tells the story of the magical Madrigal family living in the Colombian mountains. The family lives in a town protected by "The Miracle," a candle that provides each family member with a unique magical ability. The film follows Mirabel, the only member of the family who didn't receive a superpower, and her quest to find the source of The Miracle's waning power.
With a solid soundtrack by Lin-Manuel Miranda, "Encanto" explores themes of family, identity and societal pressures. It gives a breath of fresh air from the usual Colombian portrayal in the media—media which focuses only on the negative aspects of Colombian history. Rather, "Encanto" beautifully portrays Colombian culture through its music, dance, food and clothing.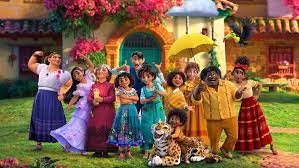 The cast is diverse and the family looks what an actual Colombian family would look like. Afro-Colombian characters, often ignored and underrepresented in Colombia, play an integral role in the Madrigal family. The character designs look authentic and genuine,
as if the family members are real people. And each family member acts like a person, too. They all have unique personalities, flaws, goals and values that make their family just like any other family.
Despite its sometimes peculiar worldbuilding, the film is still a great watch for this winter break. Rated PG, Encanto focuses on family dynamics and relationships which transcend cultures. It takes a closer look at Colombian-specific customs and traditions.
"Encanto" is an enchanting movie, well worth a watch. It's a heartwarming movie that I felt does justice to its depiction of Colombia. If you're interested in checking it out, you can watch Encanto in theaters now.