Neuqua Football Team Exposed to COVID, cancelled for two weeks
On Tuesday, Mar 23th , the twitter account representing the football team announced the decision forcing them to cancel the next two games of their season due to reported COVID-19 cases within the team.
This information comes after last week's Saturday game against the Naperville North Huskies, in which the Neuqua Wildcats dominated with the score of 29-22. However, their celebration was short-lived, as the Illinois Department of Public Health issued an order to pause any activities for the next two weeks due to the positive testing for COVID-19.
This doesn't just impact Neuqua; it has a butterfly effect. Neuqua playing with a player that was possibly exposed to the virus also disrupts the opponent's season. Naperville North now has the responsibility of conducting their own investigation for contact tracing and causing an uncertain future with their own games against other schools, like Dekalb. The Barbs were expecting the Naperville North Huskies to play against them this Saturday; however, all levels except for varsity were allowed to compete because of their exposure to Neuqua's infected players.
Football has been the only sport at Neuqua so far that the season has been disrupted due to COVID-19, with the examples of successful seasons from girls and boys cross-country, basketball, swim and dive, and girl's badminton as comparison. This raises the question of whether these football players are strictly adhering to these important regulations, which are put into place in respect for the safety of the players and families involved. What were the different actions and precautions taken between the athletes competing in those previous sports in comparison to how football is conducting their practices or games, that ended up with contrasting results?
After reviewing photos taken by The Echo's Sachin Fong, it seems like there were several rules that were not being followed on game day. In accordance with IHSA's Rule 1-5-1a, "Players are required to wear cloth face coverings under their helmets." Rule 2g states "Players and coaches should maintain recommended social distancing guidelines at all times while in the team box."
But in every single picture taken at the game, almost all of the players were not wearing a mask or face covering properly, or at all, and social distancing was non-existent. This blatant disregard for the rules reflects poorly on the team's character and responsibility for the communities safety they share by participating in this sport. The only way for sports to work in the era of COVID-19 is by staying safe, staying responsible, and staying smart.
Although it seems like we are back to school before COVID-19, events like this remind everyone that we are still in the middle of a pandemic.
About the Photographer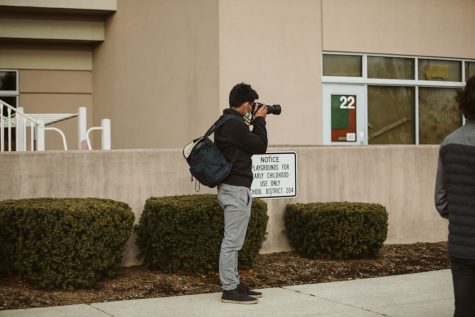 Sachin Fong, Staff Photographer
Sachin Fong is a junior and a first year member of The Echo. He is involved with Cross Country, Track and Field, and band. His hobbies include running,...