I dig what I dug from Wallows' "Remote" EP
LA band Wallows released their "Remote" EP on Friday Oct. 23, 2020. The release follows a virtual world tour, multiple zoom calls to chat with fans and sneak peeks of their new music. To add to the idea of being remote, members Dylan Minnette, Braeden Lemasters and Cole Preston utilized voice memos and FaceTime to produce the tracks. The result is a six track extended play, a musical recording too long to be a single but too short to be an album. 
I have been a fan of Wallows since prior to the release of their debut album "Nothing Happens," an indie centric story of growth and love. I wanted to give this EP a try because I had connected so much to their old music, and while I believe that their new music carries a message, their style has changed tremendously. "Remote" is something that is different from their other works, primarily because of the added complex and electronic sounds. The sound is much heavier and almost unorganized, and although this is something I have not seen much from the band, I thought that they were able to pull it off very well. 
I consider this work to be a story of love and relationships. While people can initially interpret this romantically, I was actually able to tie it to some of my friendships and loving them platonically. The EP begins with songs with subtle ideas of liking how someone says your name, then it develops into being long distance, overthinking and wanting the best for them. I think that is how this whole pandemic has been going for all of us, and I am glad the band was able to express it through their music. 
"Virtual Aerobics" is definitely not the song I would have chosen to introduce the album, but it effortlessly fits the theme of being remote. To me, it is somewhat cringeworthy that they would write a song about participating in virtual exercises, but what I think is worse is that the song does not include as much electric sound and is much slower than the rest of the album. I see what they were trying to do, but "Dig What You Dug" would have been a stronger introduction. It is a story of budding love; Braeden emotionally portrays this when he sings "say it again" and the overall chaotic organization of the song is an accurate representation of the beginning feelings of loving someone. 
"Nobody Gets Me (Like You)" is where the relationship begins to pick up, and I truly thought that the lyrics were cute and fun. It expresses finding comfort in one person, and it kind of feels like they are hugging me. Needless to say, I immediately sent this song to my best friend. The vocals are much stronger than on "Virtual Aerobics", and this song helped me adjust to their sound for the album. I am glad they released this as a single prior to the release of "Remote" because it allows listeners to get a feel of their new style.
"Coastlines" captures the theme of remoteness well because the song is discussing long distance relationships. This is how most of our friendships and relationships are running right now, and I could personally connect to missing someone and being afraid of separation. That is definitely something I am afraid of—losing my friendships with people I love—because we have to stay away from each other. Skipping over "Talk Like That" (yes, "Talk Like That" is an absolute skip), the band vocalizes the overthinking that occurs in the final track, "Wish Me Luck". The song is just sad and shows how being stuck at home often causes emotional issues and separation. Fears of losing someone are becoming a reality and handling emotions becomes difficult, which this song does a really good job of portraying. It is not chaotic like the rest of the play, it's the sad truth behind all of it. I think it is the best way they could close off the EP. 
I will admit that I am not the biggest fan of Wallows' style during this EP, but the trio portrayed the emotions and worked with the electric sound surprisingly well. In the future, I would definitely like to see more of their previous style, but I guess I can adjust to the new sound in order to feel something through their music. I have no idea what they plan to do for the rest of quarantine, but for now, I think I will listen to "Remote." Please "Wish Me Luck."
About the Writer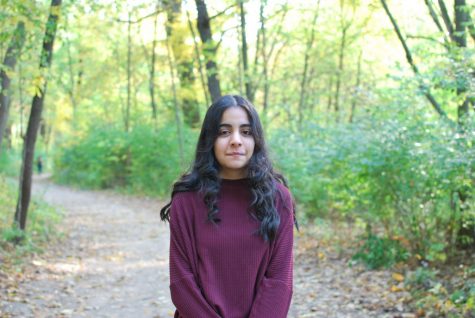 Aarti Gupta, Staff Writer
Aarti is a junior and a first year member of The Echo. She enjoys watching sitcoms, listening to Big Time Rush, and forcing her best friend to listen to...