How a fictional love story between the First Son of the United States and the Prince of Wales impacted a real community worldwide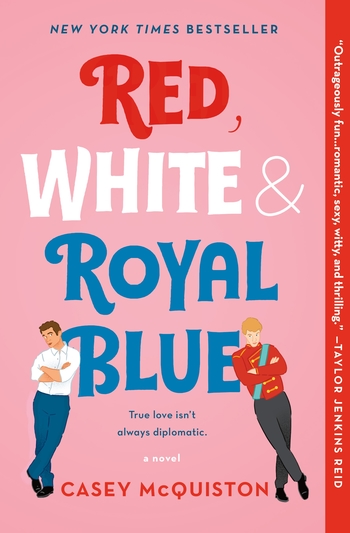 "Red, White & Royal Blue" was released in early 2019 and tells the story of a friendship that was formed between two seeming enemies, the First Son of the United States, Alex Claremont-Diaz, and the Prince of Wales, Henry Fox-Mounchristen-Windsor, as a publicity stunt which soon developed into an international relationship (not the political kind). The novel discusses the struggles of understanding one's own sexuality, coming out, and how sexuality may impact the position a person holds.
Alex Claremont-Diaz and Henry Fox-Mountchristen-Windsor made the history they bet they could. As Casey McQuiston wrote in her sensational debut novel, "This is it. October 2, 2020, and the whole world watched, and history remembered."
Alex was right when he said that "the whole world watched." At first I considered myself to be the only one finding myself in this book, but as I browsed the Internet, I was able to find people just like me. This past week has been a celebration of when Alex and Henry's emails were publicly leaked, and multiple tweets have gone viral in response to the event. Additionally, in accord to one of the most popular phrases from the novel, "HISTORY HUH" was trending in Brazil on Sep. 25, 2020.
I saw this tweet that perfectly described my feelings for this week, and I will be honest, I am somewhat tearing up as I write this article.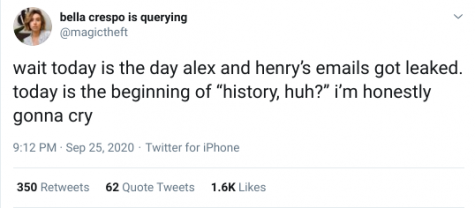 As a member of the LGBTQ+ community, I took the opportunity to read the book this summer, and it completely revolutionized my thoughts and emotions—in a good way. I am not exaggerating when I say that this book changed me because it did. My sexuality is something I struggle with, and I found comfort in seeing Alex's character grow and develop as I was going through a hard time. The story was also something I discovered as I was battling with severe depression, and while I know Alex's experiences were different, I still connected with and found a home of sorts in his story like I've never experienced before.
One of my favorite quotes from the novel is "they have to figure out how to do this for real now, how to love each other in plain sight. Alex thinks they're up for it." While it is not one of the more popular quotes that many fans discuss, it is one that I keep close to my heart. The quote tells a story of hope—a story that gave me hope and belief. It is about fighting struggles that we have and believing that you're going to succeed in the end. I am so proud of Alex for coming to this point because I really struggled with it. It was something that I did not think I could achieve for the longest time, but I was wrong. I am okay, I am valid, I have got this, and I thank McQuiston every day for writing a story that supported me in realizing this.
I was able to get in contact with Natalie Walton, author of "Revenge of the Sluts", who described how "'Red, White & Royal Blue' is the kind of book [she wishes she] had when [she] was still in high school but [is] still really glad to have now. It's funny and human and warm and has a happy ending between a contemporary, same-age couple, something we still find ourselves fighting for in the year 2020 … [Walton stands] by the value of being represented in books and movies; [she thinks she] would've felt a little less alone and a little less confused as a teen if there'd been more romances with characters who validated [her] feelings toward women. And, even now, as an adult who is comfortable with her sexuality, [she's] still seeking queer literature because, at least for [her], the desire to connect with and cry with and cheer for queer characters hasn't gone away."
It is evident that the novel has impacted many emotionally, but it also represents what can be done in the publishing industry. As an author with diverse characters, Walton described how she thinks the story has impacted the publishing world. She cited how "beyond the charm of the book itself, there is also the fact that Casey McQuiston and the success of 'Red, White & Royal Blue (along with books like 'The Cemetery Boys' and 'The Henna Wars', among others) are proving that there is a market for LGBTQ+ literature." I cannot agree more with what she said. The novel truly encourages authors to share their experiences in a way readers can connect to. While the story is lighthearted and comedic, it does have a serious and happy message that readers are able to find solace in.
We need more books like "Red, White & Royal Blue" that are targeted towards both younger and older audiences to allow them to realize that their feelings are valid and connect to the experiences others have had. Alex realizing his sexuality was one of the most authentic portrayals I have ever read because his feelings were so much like mine that I thought I was dreaming. I did not think how I felt was right or valid, but then I saw this character who went through the same things I did, and I was rooting for him the whole time. This is why we need these stories—we need to represent people in fiction. The success of this novel has provided people with an opportunity to share more of these stories, which is something I am really looking forward to.
And for that, thank you, Alex Claremont-Diaz. You know how you sent "history, huh? Bet we could make some" in an email to Henry? Well, you did. I thank you every day for that. It is Oct. 2, 2020, I'm watching and remembering, and so is history. Thank you.
About the Writer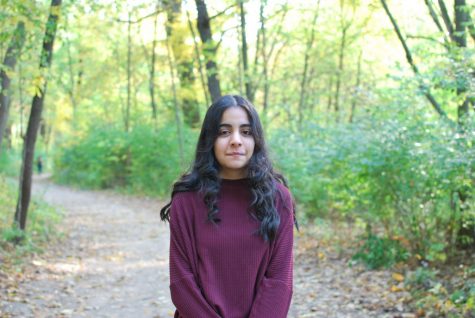 Aarti Gupta, Staff Writer
Aarti is a junior and a first year member of The Echo. She enjoys watching sitcoms, listening to Big Time Rush, and forcing her best friend to listen to...